Coast Capital's culture of care fosters diversity and inclusion – we want our employees to know they can come to work every day bringing their full selves through the door. To make sure we're advancing D&I initiatives in a way that matters to our employees, we've formed employee-run networks to lead the charge. One of those networks is the Pride Inclusivity Network.
We chatted with Victor, Member Service Representative and Cristiane, Member Banking Specialist, to get their perspectives on what the network does and how it helps our employees and members.
What are your positions in the Pride Inclusivity Network?
Cris: We're both Co-Chairs of our Pride Inclusivity Network (PIN). As Co-Chairs, we are responsible for oversight of the day-to-day activities within the PIN, including logistics around planning for our various pride celebrations, ensuring the PIN team is engaged, and sourcing new opportunities to further support our LGBTQ+ communities.
What's the Pride Inclusivity Network's purpose?
Vic: The PIN's purpose is to champion the voice of our LGBTQ+ community within Coast Capital, for both employees and members, to remove visible or invisible barriers and make our environments more safe and inclusive for all.
Why did you get involved?
Cris: Vic invited my wife and me to join the Coast Capital team in the Vancouver Pride Parade in 2018. Afterwards, we put our heads together to see what more we could do to advance pride initiatives at Coast Capital, and with the guidance of our Executive Sponsor Sarah Jasper, we started the PIN. I am deeply committed to giving visibility to the LGBTQ+ community and promoting D&I in the workplace, and this was the perfect opportunity for me to help make a difference in the lives of others.
Vic: I'm no stranger to championing involvement in LGBTQ+ initiatives. Before I started working at Coast Capital, I used to work at a coffee shop where I led the company to get involved with the Vancouver Pride Parade back in 1999, and participated in it until I left the company in 2012. As a member of the LGBTQ+ community, I have always felt welcome and encouraged to be myself at Coast Capital, and when our Chief Member Experience Officer Tracey Arnish came into my branch and talked about diversity and inclusion in the workplace, I was so inspired to see a senior leader make this commitment to the LGBTQ community.
Representing Coast Capital in the Vancouver Pride Parade in 2018 was a great experience, and when the opportunity came up to help form the PIN, I put my hand up immediately. There is a ton of great work happening here around D&I, and I wanted to be a part of it.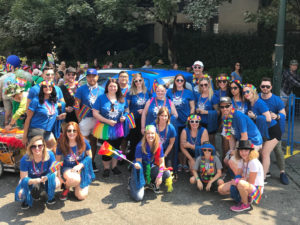 Why are diversity and inclusion initiatives so important in the workplace?
Cris: Diversity and inclusion is vital for us as employees because it helps to remove barriers and make our work environment more safe and inclusive for all. When we feel safe and able to be ourselves at work, we are able to thrive and make a real difference in both the way our employees feel about coming to work, as well as provide an exceptional experience to our members.
Vic: Diversity and inclusion supports who I am and my culture. To now to be able to support others in my second home, Coast Capital, makes me really proud (see what I did there?) and happy. I'm able to be my full self and am embraced and acknowledged for the diverse perspectives and experiences I bring to the table.
What can we look forward to from the Pride Inclusivity Network?
You can look forward to seeing us out at various Pride celebrations in Surrey, Victoria and Vancouver!
Surrey Pride Festival "Pride Party in the Plaza" – Saturday, June 29th from 3-8PM
Victoria Pride Festival – Sunday, August 7th from 12-6PM
Vancouver Pride Run & Walk – Sunday, July 21st from 830-11AM
Vancouver Pride Parade – Sunday, August 4th from 11-2PM