The weather's heating up and days are getting longer, which can only mean one thing: patio drink and bathing suit season is upon us!
… Well, kinda. While those two things go hand-in-hand with summertime, there are also a lot of awesome family-friendly summer activities taking place all over Vancouver Island this summer. Bonus? They don't have to cost you a dime (or require a bathing suit).
39 Days of July Cowichan Summer Festival
Technically there are only 31 days in July, but the Duncan Cowichan Festival Society wanted to spread the fun over 39 days in June, July and August. Each day free music will be offered from noon until 8pm at Charles Hoey Park.
Every Wednesday evening during the festival, a second site in the City Square will also offer free music with acts at 7:30 and 8:30 pm.  We'll be there too, so come by and celebrate the middle of the week with us.
When: June 29 – August 6, 2018
Where: Charles Hoey Memorial Park and the City Square, Duncan B.C.
Cost: Free. For the full concert lineup, visit their website.
Canada Day
Our province's capital doesn't skimp on the fun-factor when it comes to Canada Day celebrations. Canada Day Victoria showcases our nation's cultural heritage through artistic and cultural performances, delicious food from around the world, activities for all ages, and a fireworks display over the Inner Harbour to cap off the night. And, back by popular demand, we'll be putting together the Coast Capital Savings Living Flag. Click here to register.
When: July 1, 2018
Where: Lawn of the BC Legislature, Victoria B.C.
Cost: Free. For the rundown of festivities, check out their website.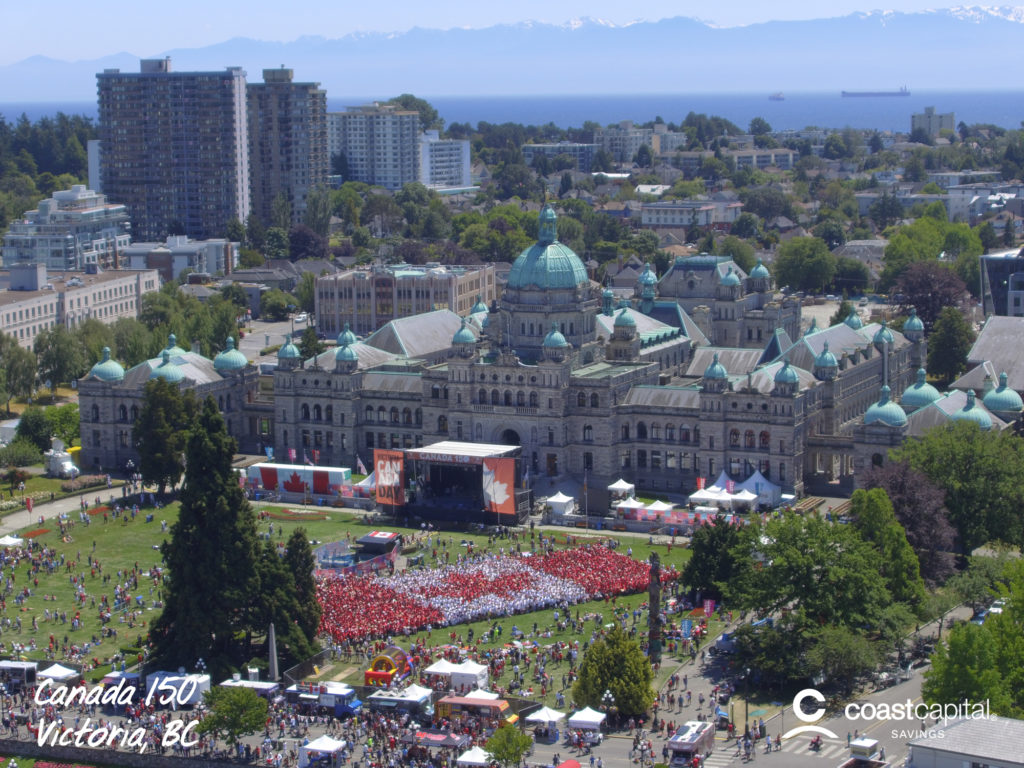 Parksville Beach Festival
When: June 8-17, 2018
Where: 193 Beachside Drive, Parksville B.C.
Cost: Free. Check out their website for more details.
This five week festival includes the Canadian Open Sand Sculpting Competition and Exhibition, a free summer concert series, buskers, and an artisan market. A portion of the exhibition gate proceeds is given back to gate ambassadors from local service clubs to do good within the community.
BC Summer Games
When: July 19, 2018
Where: Various locations in Cowichan
Cost: Free. For info on events and more, visit their website.
In its 40th year, the BC Summer Games bring together BC's best young developing athletes (ages 10-18), trained coaches, and certified officials for four days of high-level sport competition. This event is a volunteer driven initiative hosted throughout the province in partnership with the BC games society and the Province of BC. We're proud to be a partner of this event that highlights some of our province's awesome youth!