As March 2 approaches (that's the RRSP contribution deadline for the 2019 tax year), many British Columbians experience feelings of guilt and anxiety just thinking about retirement savings.
We recently ran a poll conducted by Mustel Group Market Research and found that one-third of British Columbians experience either anxiety or guilt when hearing the acronym "RRSP" (21% felt anxiety and 13% felt guilt).
What's the deal with all the anxiety? We asked our vice president of treasury, Daryl Hoisein. He said "RRSP season is a time when people are assessing their retirement savings. For many, that assessment doesn't line up with where they had hoped to be," It also has to do with living expenses. On that, he said "our poll found that 67% of British Columbians have a hard time saving for retirement because of day-to-day living expenses, which helps explain why people are feeling overwhelmed."
However, Daryl says that people might be stressing unnecessarily.
"RRSP season can leave people with the impression that maxing out your annual contribution is something everyone should be doing," he said. "The truth is, contributing to an RRSP isn't the right approach for everyone. At Coast Capital Savings we encourage people to invest with their financial goals front of mind.  Goals-based investing takes into consideration the stage of life you are at as well as your financial priorities in informing your investment approach. Sometimes there are other things that top the priority list, such as paying down debt, and that is ok too."
People who take a holistic approach to retirement savings and have a long-term financial plan generally are more at ease this time of year because they aren't driven by a deadline when making important financial decisions.
Daryl offered up three tips for people to help them relax around RRSP season:
Slow and steady wins the race. Saving for retirement isn't a sprint. Start planning for 2020 by putting away a small amount each month towards your RRSP so you're not trying to find a large lump sum at next year's deadline. Even $20 a month over the long term adds up quickly.
You've got this! Don't obsess over RRSPs. Depending on where you are, and your financial obligations and goals, RRSP contributions might not be your top priority – and that is ok. Whether it is saving for a child's education, building your rainy day fund, or investing in other vehicles such as a TFSA, your strategy should be goal-based, not deadline-based.
You're not alone. Finances can be overwhelming and complex. A financial advisor can help you determine whether an RRSP is a good fit or not. Many financial institutions, including Coast Capital, have financial advisors that members can talk to for free.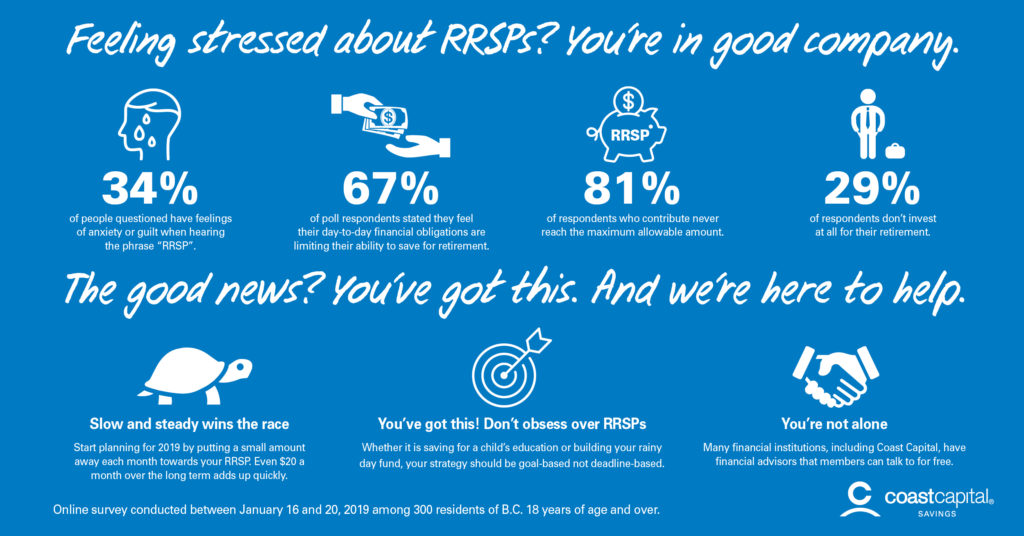 The poll also found that:
34% of respondents do not currently invest in an RRSP
81% of respondents who contribute never reach the maximum allowable amount.
Two out of three respondents feel their day-to-day financial obligations are limiting their ability to save for retirement.
63% of respondents have a Tax Free Savings Account (TFSA)
44% have access to a company pension plan.
More than 29% of respondents don't invest at all for their retirement.
With a little help, RRSP season doesn't need to be a stressful time of year. Give us a shout and we'll get you on the right track to reach your goals.
The data for Coast Capital Savings RRSP Poll was collected through an online survey from January 16 to 20, 2019. The poll was conducted among 300 residents of B.C. 18 years of age and over. The margin of error on a random probability sample of 300 respondents is ±5.7 per cent at the 95 per cent level of confidence.
The stuff we have to say.
Coast Capital Savings Federal Credit Union provides advice and service related to deposit, loan and mortgage products. Coast Capital Wealth Management Ltd provides investment and financial planning services. Coast Capital Financial Management Ltd. provides advice and service related to segregated funds, annuities and life insurance products. Worldsource Financial Management Inc. provides advice and service relating to mutual funds. Mutual funds are not guaranteed or insured by any financial institution, government or other deposit insurer. Mutual fund values change frequently and past performance may not be repeated. Commissions, trailing commissions, management fees and expenses may all be related with mutual fund investments. Important information about mutual funds is contained in the relevant fund facts and simplified prospectus. Please read the fund facts carefully before investing.