One of the reasons I look forward to the holidays is that it gives me the opportunity to sit down and think about the people I love and what matters to them. The holidays aren't about getting the latest Xbox or blender – they're about spending time with the people you care about. And sometimes that means you want to treat those you care about to something special. And what's even more special? When you don't have to empty your wallet doing it. That's why I'm sharing my top 5 holiday gifts that fit any budget. 
1. Cookies in a jar
One of the things I always do for holiday gifts is bake. Baking is great to give to your neighbours, your boss and coworkers, and even the mailman. I mean, who doesn't love receiving something delicious? It doesn't have to be complicated either. You probably have most of the ingredients for these chocolate chip cookies-in-a-jar already in your pantry.
What you'll need:
2 cups flour
1 tsp of both salt and baking soda
¾ cups of both brown and white sugar
Chocolate chips
Fill a large canning jar one ingredient at a time in the order listed, packing down each layer as you go. Packing it down well will help the ingredients keep that layered look you're going for. Top off the jar with enough chocolate chips that you fill the jar up to the top. Add your own personal touch with a nice piece of ribbon or fabric. And don't forget to print out a recipe card to give with the jar. I like this one.
Approximate cost: $5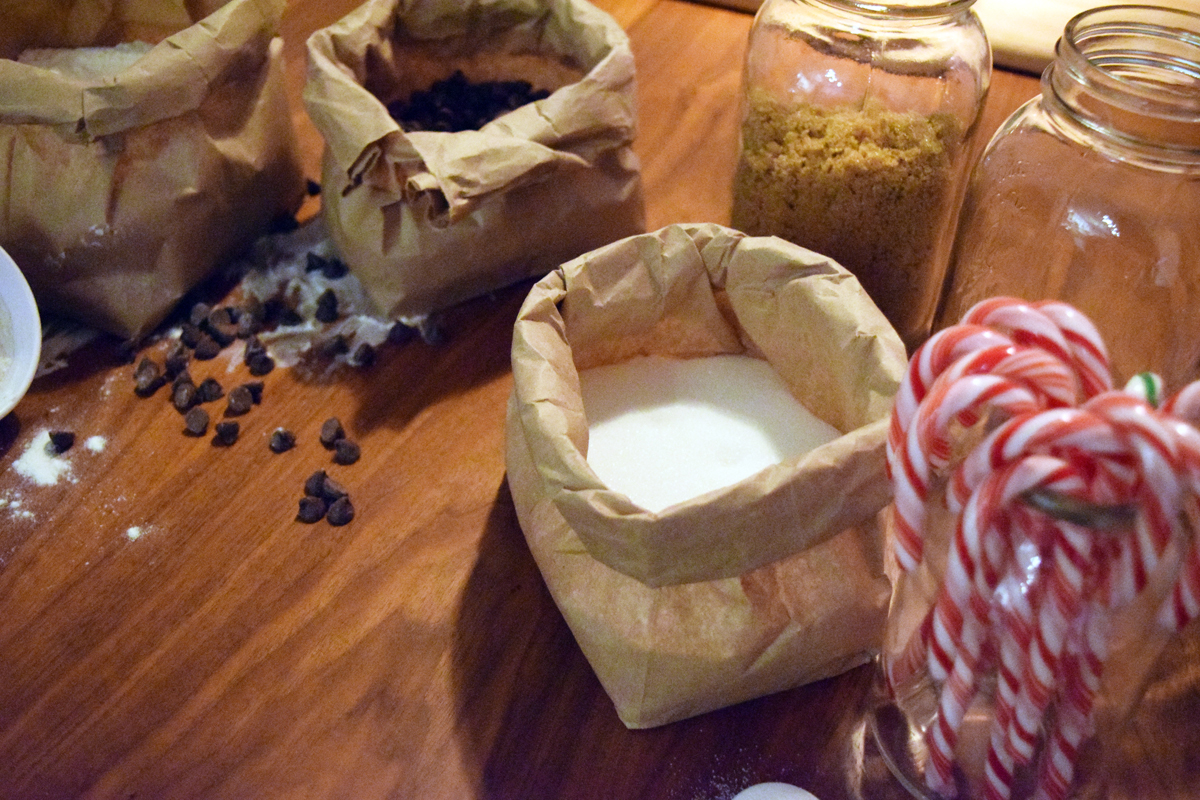 2. Acts of service
You don't have to spend money to meaningful holiday gifts; your time can make just as much of an impact. Create a coupon book for the one you love. Coupons could include a lawn mowing for Dad, making dinner for Mom, or a back massage for your spouse. Just make sure you really think about what the person deserves and would appreciate.
This time of year is also a great time to give back to your community. Volunteering your time at a local soup kitchen or food bank is a gift that will impact hundreds of people. A little can go such a long way.
Approximate cost: $0
3. Movie night in
Life can be busy, especially for those who have young families. Between soccer practice, dance class, and full-time jobs, it's easy to forget to put aside quality time to spend with loved ones. That's why this gift is all about making memories and creating traditions.
Sure, it's easy to find a movie to watch without leaving the comfort of the couch, but there's something nostalgic about holding that DVD in your hands. So pick up a classic film that's good for the whole family, pair it with some popcorn, candy and snacks. Include a little note about taking some time to relax with the fam, and you now have a recipe for a family movie night in.
Approximate cost: $15-$20
4. Photo magnets
Personalized gifts are so meaningful, especially when you put your love and time into them. For this gift idea, you should track down some photos that are special to the person you're gifting this to. Social media is a great place to start.
What you'll need:
2″ x 2″ craft tiles
Craft glue (like Mod Podge)
Paintbrush
Hot glue gun & sticks
Magnets
Working fairly quickly, spread Mod Podge over tiles using your foam brush, and carefully place photo in the centre. Allow it to dry completely. One dry, carefully brush a layer of Mod Podge over the photo, keeping brush strokes going in the same direction. Once dry, glue a strong magnet on the back of the tile using strong glue like super glue. Stack them and secure with a ribbon for the perfect little gift.
It really is that easy. Check out the video I made with Coast Capital for inspiration!
Approximate cost: $5-$15 (depending on how many magnets you want to make, and whether or not you already own Mod Podge)
5. Green thumb
Having plants in your home can have so many benefits aside from just being aesthetically pleasing. They can help improve air quality and reduce stress, among other benefits. That's why I love giving a household plant as a gift for any occasion.
Visit your local gardening centre and pick up a small plant (I'm really into tropical plants and succulents!) and an inexpensive pot. You can even add in some accessories like a watering can or spray bottle. This holiday gift doesn't have to be for experienced gardeners – it's for beginners too! Just make sure to choose an easy to care for plant.
Approximate cost: $15
Holiday gifts made easy.
This holiday season, don't just go out and get another thing to check off your list. Follow these gift ideas or use them as inspiration to make some of your own. There are endless ways to create meaningful gifts with your own personal touch, all while saving money along the way.