Who loves a good holiday party?
But being a host(ess) with the most(est) is no small feat. Whether it's a small gathering with close friends or an all-out extravaganza with your entire extended family, entertaining can come at a cost. According to a recent survey, Canadians will be spending an average of $643 on gifts and an additional $300 on décor and entertaining. But don't worry, there are plenty of ways to have a great holiday party on a budget even Ebenezer Scrooge would approve of.
We've compiled a list of our top ways to stretch your dollar across the usual elements of a party: decorations, food, and entertainment.
Decking the halls on a dime.
Decorations are an important part of any yuletide event, but the price of some of the store-bought stuff can add up very quickly. Here are some ways to spruce up your entertaining space:
Borrow from nature. If you live in or near a wooded area, you can gather your own materials outdoors for free. Things like holly sprigs, fallen branches of spruce or pine trees, berries, or leaves. Not only will they look nice, but they'll smell super festive too. Just remember to compost the decorations when you're done.
Light it up. A big bag of tea lights will only cost you a few bucks, but will make any room or table feel more elegant. Pop them in a big vase or glass bowl with water, a few sprigs of holly and berries (bonus points if you can scavenge them outside).
Get the scissors out. If you're feeling crafty, you can even DIY some of your own decorations. Use leftover scraps of wrapping paper, craft paper, or newspaper, some glitter glue or paint, and some imagination to create strands of garland or homemade cards to get your space party-ready.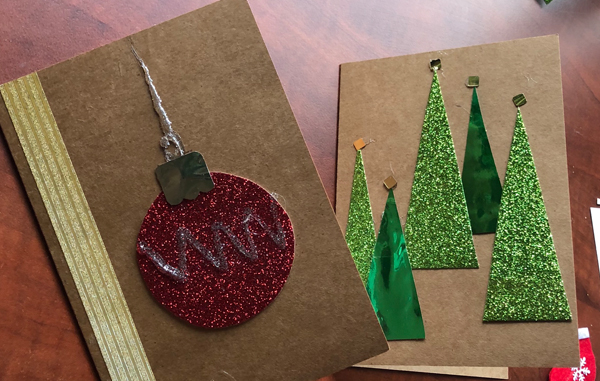 Sharing is caring. If you're having a big group over but are short on tableware, borrow it from others. It's very likely that your family members or friends will be happy to lend plates, serving trays or cutlery to you. You can also check thrift shops or second-hand stores for unique pieces, like a punch bowl or tray, rather than pay full price for something brand new.
Get all senses going. Make a stove simmer to fill your home with holiday scents. All you need is a pot of simmering water, citrus slices, fresh herbs, or cinnamon sticks. Check out this recipe list for inspiration.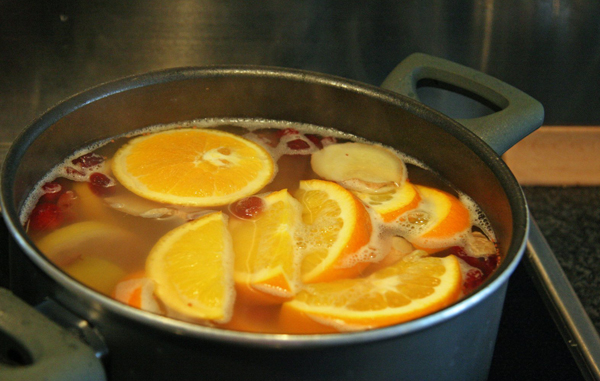 The way to a heart is through the stomach.
Plan ahead. If you do insist on a big turkey dinner with all the trimmings, don't go into the store without a game plan. This means having meals planned, knowing what's on sale at the store you're going to and staying focused once you're in the aisles. Sure, those little elf wine glass tags would be the perfect addition to setting a festive vibe, but would coloured twist ties or an erasable glass marker accomplish the same thing? Check out these 5 tips for helping you save on holiday groceries.
Choose your ingredients wisely. Meats can really elevate the cost of your meal. Switch it up and try vegetarian main dishes, or stretch your meat budget by using drier or tougher cuts and tenderizing them in a slow cooker. The low, moist heat is also perfect for preparing stews and soups.
Say cheese! If the stress of a holiday dinner is too much, try a wine and cheese or cocktail party. Ask guests to bring their favourite wine and a cheese that pairs nicely. Eight guests = eight different types of wine and cheese to enjoy by all.
Skip straight to dessert. A sweet end to a meal is always the best part – so why not skip straight to it? When you're serving a holiday dessert instead of a meal, you can go all out on something fancy like a chocolate fondue, or keep it casual with a batch or two of holiday cookies and hot chocolate.
Putting the 'entertain' in entertainment.
Put the 'flix on. For a great family-friendly activity, invite friends over to watch a classic holiday movie. If you're short on seating, you can pull out some pillows and blankets and spread out on the floor. And don't forget popcorn!
Give back (and celebrate) together. Turn your holiday party into an opportunity to help others. There are many worthy charitable organizations in your community that need an extra boost to fill the homes and hearts of those in need. This includes food banks, toy drives, animal shelters, and soup kitchens. Find an event in your area, tell your friends, and get together for a few hours to lend a hand.
Entertaining doesn't have to be fancy or even come at a cost – the most priceless memories are made when you're just spending time together.