At Coast Capital, we believe that our cooperative is an engine for good, and we look at everything we do through the lens of how we can help our members, our employees and our communities.  Our commitment is to more than just meeting financial needs, it's about building a better future together. That's why we're so proud to announce our recertification as a B Corporation.
What is B Corp certification?
B Corp certification measures a company's entire social and environmental performance. When a business achieves B Corp certification, it means that they've scored well against a rigorous assessment, conducted by B Lab, that evaluates a company's performance in 5 major categories: Governance, Employees, Community, Environment, and Customers.  Within these categories, companies must demonstrate high social and environmental performance practices, make legal commitments to socially responsible governance, and exhibit transparency regarding their employee benefits, charitable giving, supply chain practices and more. All of that to say—companies that are certified B Corporations are leaders in the global movement for an inclusive, equitable and regenerative economy.
What is our B Corp score?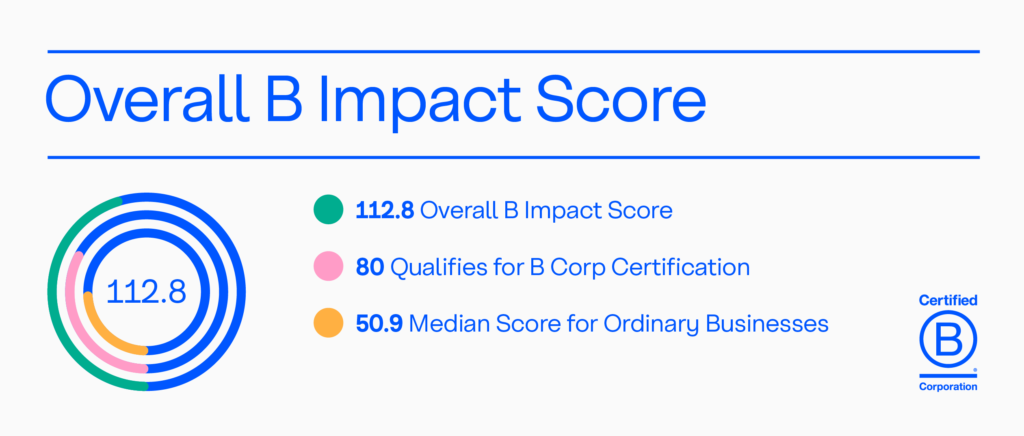 B Lab assesses businesses using a point system, and companies must score a minimum of 80 on the B Impact Assessment to be considered a B Corp—not exactly an easy feat given only one in three submissions are certified. Coast Capital, achieved a new verified score of 112.8, a remarkable  11.8% increase over our 2018 result (when we were first certified).  We're incredibly proud of this achievement because it's an important way we hold ourselves accountable for our impact. B Corp Certification offers us a benchmark for best practices and is a tangible expression of how we building a better future, together.
How we've improved.
Although we're proud of all the work we've done as a social purpose organization to improve our B Corp score, our work with our members and our community have by far shown the most impact. As a member-owned cooperative it's imperative that we live up to our promise to put members at the centre of everything we do. By building community and relief-minded products like our COVID-19 consolidation loan and Social Purpose GIC, we were able to directly address and alleviate some of our member's biggest concerns while also finding new ways to deliver on our purpose.
We've also made significant strides in our Community score thanks to our strong commitment to equity, diversity and inclusion. We boast strong representation of youth and women in our workforce, and highly engaged members of our affinity networks. We also prioritize community giving by investing 10% of our budgeted bottom line each year back into the communities we work, live and serve in.
Why does it matter?
In today's landscape, more and more brands are claiming to be impact-driven to appeal to their customer base. Organizations like B Lab and programs like B Corp certification ensure that companies walk the walk, not just talk the talk when it comes to ESG (environmental, social, and governance) practices.  Our commitment to B Corp certification goes hand in hand with our commitment to our members and our communities. By being aware, transparent, and intentional about the work we do and the partners we choose, we can all work together and hold each other accountable to make business a force for good.