The RRSP contribution deadline is just around the corner. Come March 1, it's a 'snooze you lose'-type situation if you want your contribution to count for the year.
Like many people, you may not have the cash after the holidays to drop into your RRSP, even though the benefits of a sweet tax return are calling your name. Or maybe you have a small amount to deposit, but aren't maximizing the yearly contribution you can make.
The good news is it's never too late to start or enhance your retirement savings plan. An RRSP loan is a great way for you to maximize your contributions and come out on top during RRSP season.
How it works
Essentially, you're borrowing money so that you can put more into your RRSP. This allows you to receive a higher tax deduction, which means you'll get a higher refund or reduce the amount of tax you might owe. Plus, you can use it to finance any investment product within your RRSP account.
Make your money work as hard as you do
An RRSP loan could help you maximize your contribution and put you on track for your ideal financial future. If you haven't been able to manage large contributions in the past, or you've just started to plan for your retirement, it might be a good solution. You can make your savings work for you now and grow your savings faster – it's a win-win.
For example, if you take out a loan for $1,000 and pay it off in 12 equal installments, you'd come out with a $415* bonus. That is, once you've factored in the interest owed, interest earned, and the tax return. That's $415 you wouldn't have made if you had contributed nothing.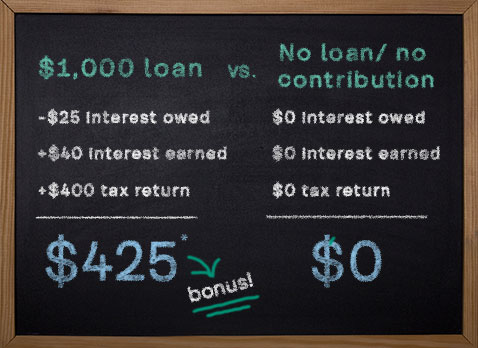 It's easy to set up
You can apply online or visit a branch to get started.
And you can easily re-advance it year-after-year
You can re-apply for an RRSP Loan every year over the phone or by visiting a branch. And by doing so, guaranteeing earned interest as well as a sizable return for contributing – money you wouldn't have earned if you hadn't made a contribution.
Take advantage of unused contribution room from past years
A lot of people know that there's a maximum amount to contribute each year. But did you know that you can 'top-up' unused contributions from the past? The beauty of an RRSP is that the contribution allowance never expires. So even if you don't contribute for 10 years, the contribution amount from each of those years is still available.
Is this for me?
If you're straddling the line between two tax brackets, and are able to make your monthly payments on both the loan and the interest, a loan could be a great option to put some extra cash in your pocket.
Need advice? Let's chat
Come in and meet with one of our financial advisors ahead of the RRSP deadline. They'll review your retirement goals and investment portfolio to make sure you're making the right contributions to get you on – or further down – the path towards a comfortable retirement. So that dream of mid-day swims at your pool in Palm Springs isn't so far off, after all.
The stuff we have to say.
Coast Capital Savings Federal Credit Union provides advice and service related to deposit, loan and mortgage products. Coast Capital Wealth Management Ltd provides investment and financial planning services. Coast Capital Financial Management Ltd. provides advice and service related to segregated funds, annuities and life insurance products. Worldsource Financial Management Inc. provides advice and service relating to mutual funds. Mutual fund values change frequently and past performance may not be repeated. Commissions, trailing commissions, management fees and expenses may all be related with mutual fund investments. Important information about mutual funds is contained in the relevant fund facts and simplified prospectus. Please read the fund facts carefully before investing. Only deposits held in Canadian currency, having a term of five years or less and payable in Canada are eligible to be insured under the Canada Deposit Insurance Corporation Act.