In an effort to shine a light on Coast Capital's Diversity & Inclusion Advocacy, and celebrate the leadership of our Pride Inclusivity Network (PIN), we took the opportunity to speak with our Co-Executive Sponsor, Rachel Coyle (VP Retail Risk Advisory) and Vice Chair, Ryan Pedwell (Manager, Operational Risk). During our discussion, Rachel and Ryan speak about their passions including being an active advocate in the fight for equity, diversity and inclusion and creating the next generation of allies.
Tell us a little about yourself.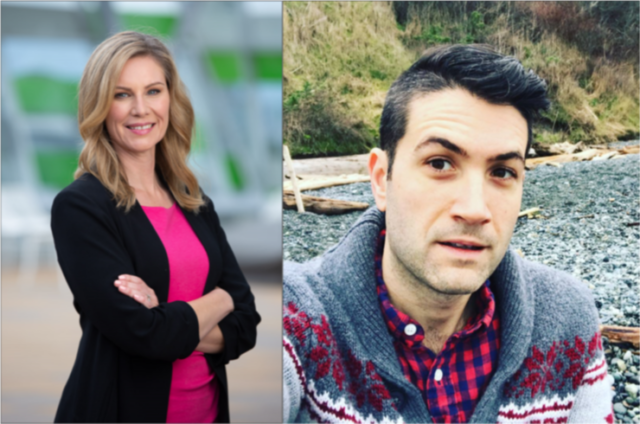 Rachel: Outside of my role at Coast Capital, I am a working mom of two and am married to my husband, Collin. In my spare time, I can be found spending time with my daughters or exercising. At Coast Capital, I am in the role of Vice President, Retail Risk and Advisory. As part of my role, my team ensures that Coast Capital abides by internal controls and processes and has acceptable practices as outlined by our external regulators.
Ryan: Outside of my role at Coast Capital, I am a travel enthusiast who loves to try new food, explore new cultures and meet new people. I especially enjoy being able to share experiences of my time living abroad in the Dominican, China and India. I am married to my husband, Lee and we have four amazing nieces and nephews. We balance our time between Vancouver, Victoria and Ontario based on Lee's very busy aviation schedule.  At Coast Capital, I'm in the role of Manager, Operational Risk. As part of my role, I work with the front line business including Rachel's team to implement and enhance risk management tools to help protect Coast and our employees and members.
How do you incorporate Diversity & Inclusion learnings into your role?
Rachel: The biggest thing for me is ensuring that people feel like they have a voice on the team and that it's valued and heard. I recently went through Unconscious Bias training (facilitated by the Canadian Centre for Diversity & Inclusion), which was rolled out to all People Leaders through Organizational Learning. The one thing that  stood out for me was such a simple concept, but so eye-opening: the Golden Rule versus the Platinum Rule:
The Golden Rule says, "Treat people how you want to be treated," and the Platinum Rule says, "Treat people how they want to be treated." That really resonated with me because it highlights the importance of not assuming people want to be treated or participate in a certain way.
Ryan: This year has been eye opening for me regarding my own perspectives of equity, diversity and inclusion. As an openly gay white male, I have come to the realization that my lived experiences can be very different from that of many of friends and colleagues. I try to incorporate what I have learned through my travels and the unconscious bias training I attended this year through Coast Captial, to ensure that I am not assuming how people want to be treated and instead actively listening and understanding their unique experiences. I believe that the ED&I learning journey for me continues, as I embrace and be okay with not always knowing the right answer and be willing to acknowledge and accept when I can do better.
What drew you to the Pride Inclusivity Network (PIN)?
Rachel: I have always felt very strongly about being engaged with the LBGTQ+ community. Allyship is incredibly important to me. I didn't want to be on the sidelines—I wanted to be right in there, actively participating and motivating a culture forward within Coast that supports the LGBTQ+ community. Days like National Coming Out Day(October 11th) remind me of my motivation to be involved and to help create a safe and comfortable environment for people to feel like they can be their authentic full selves at work.
Ryan: I was so excited when I joined Coast Capital, to hear that an Affinity Network specific for the LGBTQ2+ community had been formed and other Affinity Networks were being formed in partnership with the Equity, Diversity & Inclusion Council. I am proud to bring my whole self to work and I wanted to ensure I play an active role in supporting our community outreach and embedding safe and inclusive environments for all of our employees and members.
In your opinion, what role should we [Coast Capital] play to contribute to a more diverse and inclusive society?
Rachel: It's incumbent on organizations to create a space where people feel they can bring their whole selves to work in an inclusive, open, encouraging, and safe environment. [Creating a diverse and inclusive society] is not the duty of one single person; it's the collective voices of an entire organization. We have a responsibility at Coast Capital, as employees, to make sure that we are fostering these types of environments so people can feel like they are accepted and belong. Setting up [Diversity and Inclusion] Affinity Networks is one impactful way to do that—it's extremely important to take measurable action within an organization to show that you are creating a safe space for all people.
Ryan: I echo Rachel's comments, that it is extremely important to create a safe space where both our employees and members feel comfortable being their authentic whole selves when they come to work or visit one of our locations. As Coast Capital continues to develop nationally, our unique inclusive and supportive brand will become a market differentiator in both the LGBTQ2+ communities across Canada that we serve and it's many allies. Through our community outreach program, Coast continues to offer amazing volunteer opportunities to support local organizations to deliver on their LGBTQ2+ community initiatives. I know, as we expand nationally, even more volunteer opportunities like this will come up!
What do you suggest to employees who may witness inequality at work?
Rachel: When we feel like we're in a situation that is unjust or we've been mistreated, it's important to find that inner courage to raise your voice, to be heard, and to bring that forward. At Coast Capital, we need to encourage people to find their voice and lean into difficult conversations that potentially can be challenging for both the individual seeing it and the receiver getting the feedback. We must also acknowledge we're all on a journey and individuals may be at different levels.
Ryan: Throughout my career and travels, I have personally experienced instances of intolerance and misunderstanding. At times, it seemed easier for me to hide my real self at work. Through having the support from the LGBTQ2+ community and Senior Leaders as allies who I could look up to for mentorship and advice, I have become a much stronger fearless person who is comfortable bringing his full self wherever I am. I hope to one day become that same ally and mentor, to provide sage advice to the next generation of talent.
How do you incorporate Diversity & Inclusion into your everyday life?  Is there a mantra you live by?
Rachel: Taking this back to my own life, it's about educating and talking to my children about diversity, equity and inclusion. Equally as important, is being open to listening and learning, and having the courage to be curious. I feel that I'm helping to shape the next generation of allies. My mantra this year is to continue to demonstrate resilience in the face of challenging situations—like COVID and BLM, with many things that are going on—it builds strength in our individual character. For me, I've been trying as much as I can to lean into that resilient mindset.
Ryan: Like Rachel, my partner Lee and I are starting to talk more often and openly to our nephews and nieces about equity, diversity and inclusion. It is so important for us to share our lived experiences and help develop the next generation of allies. I live by the mantra "I embrace my full potential, even when it makes others uncomfortable." because like the great RuPaul says "If you don't love yourself, how in the hell are you going to love somebody else?".