Empowering and encouraging our employees to give back by volunteering is a big part of what we do here at Coast Capital. We believe that when you give your time, it's an opportunity to learn, grow and drive a personal purpose.
We provide employees with a variety of opportunities to volunteer in their local communities and give back to causes that resonate with them year-round. This year we decided to push beyond our B.C. border and think bigger.
And so, in May 2019, Coast Capital undertook its first-ever international volunteer project in Kathmandu, Nepal. We sent six employees, all of whom are avid volunteers within their local communities, on a three-week paid volunteer opportunity to leverage their skill sets internationally.
These employees had the opportunity to work with our partners at CECI Nepal to build a strategic plan for the Women Entrepreneurs Consumer Cooperative Society Ltd. (WECCSL), a women-run and led cooperative that supports a network of other women-led co-ops. They also put on a week of workshops for 130 WECCSL members on a variety of topics including strategic planning, business planning, finance, IT, and marketing.
They also got to explore the beautiful landscapes of Nepal and immerse themselves in an exciting cultural experience.
To learn more about their three-week adventure, we sat down with our six volunteers to hear their stories. But, before we dive into questions, here's a bit of background on who they are, what they do and their previous volunteer experiences.
Meet the team
Adrian Holloway, Change and Disaster Recovery Manager
A lifelong volunteer, giving back is part of Adrian's DNA. He's volunteered with multiple organizations including BC Children's Hospital and United Way of the Lower Mainland.
Laura Lalonde, Assistant Manager, Georgia Branch
Laura dedicates significant time to volunteering, supporting both Dress for Success Vancouver as well as delivering financial literacy presentations to organizations across Vancouver.
Narp Minhas, Financial Planner, Fleetwood Branch
Narp is a dedicated volunteer who has given his time to Junior Achievement of BC and other impactful organizations.
Ron Wiebe, Director, Procurement and Facilities
A committed volunteer, Ron has travelled around the world with volunteer organizations while also giving back at home.
Amol Thind, Manager, Alternate Channels, Small Business Banking
An avid volunteer and previous member of the Youth Get It Community Council, Amol is a strong advocate for youth.
Rachel Dick, Employee and Corporate Campaigns Manager, Community Leadership
A member of our Community team, Rachel leads Coast Capital's employee volunteer program and is an avid volunteer in her community supporting a number of non-profits including Minerva BC.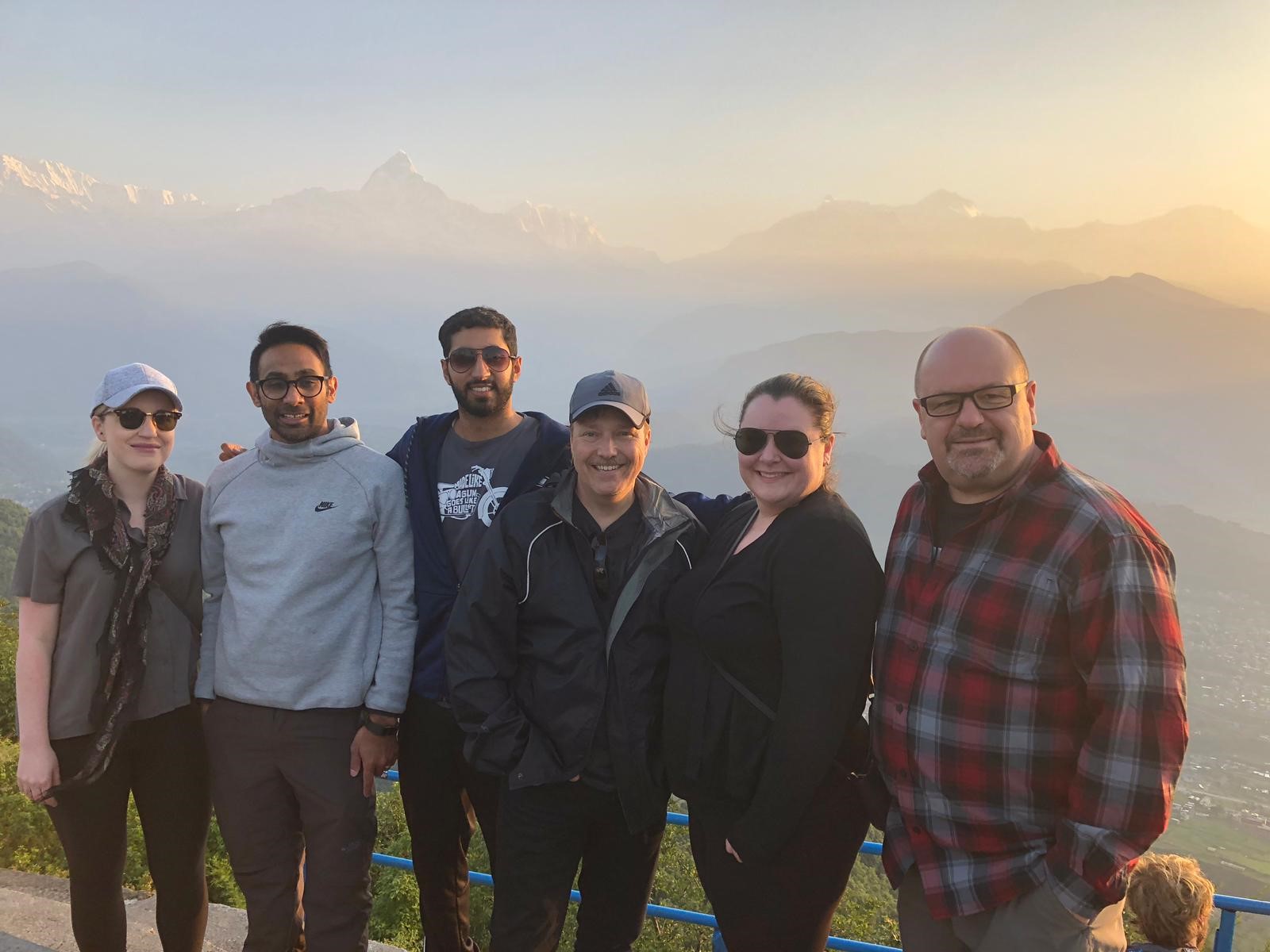 From left to right: Laura, Narp, Amol, Adrian, Rachel and Ron.
Q&A

What is the biggest takeaway from this opportunity?
Ron: My primary takeaway was the significance of the opportunity for Coast Capital and the volunteers to provide assistance and encouragement outside of Canada; we all have a lot to give.
My second takeaway was that I often take for granted the education, resources and support we have in Canada; this experience has made me more thankful for the resources available to me and my family.
Amol: After 5 days of delivering business development planning workshops in Budol, we felt like a family with the 40 attendees. We got to dive deep into the ventures that these women are launching or are working on. It gave me a really clear insight into Nepali customs and life.
Adrian: I believe there were many things the team and I took away from our experience in Nepal. For me, I gained even more than I was able to provide even though I were there to teach and support,. It's amazing how much one small group can achieve when we work together as a team on a common goal we all truly believe in.
Why do you think it's important for employers to offer volunteer opportunities to their employees?
Laura: You attract who you are. So, if you're an organization that cares about being a good global citizen and you have a robust volunteer program, you'll attract employees with the same mindset. It also helps your employees feel fulfilled in their lives which, in turn, has an impact on how they show up at work.
Rachel: Offering volunteer opportunities and providing programs that support employees to get out into their communities is a fantastic way to create meaningful impact while also encouraging employees to leverage their skills and passions to do good.
How have you grown by participating in this program? Have you gained or developed any skills or qualities through your time as a volunteer?
Adrian: My family and friends have said they've noticed a change since my return. My sense of compassion has been renewed and my confidence in my ability to stand up in front of a group of strangers and speak, teach or interact has been greatly expanded.
Laura: I feel like this experience allowed me to explore my own personal definition of what it means to be a feminist. Through this experience, I was able to interact with women on the other side of the world living very different lives than me. However, I quickly realized that we share a passion for uplifting women around us and creating gender equality.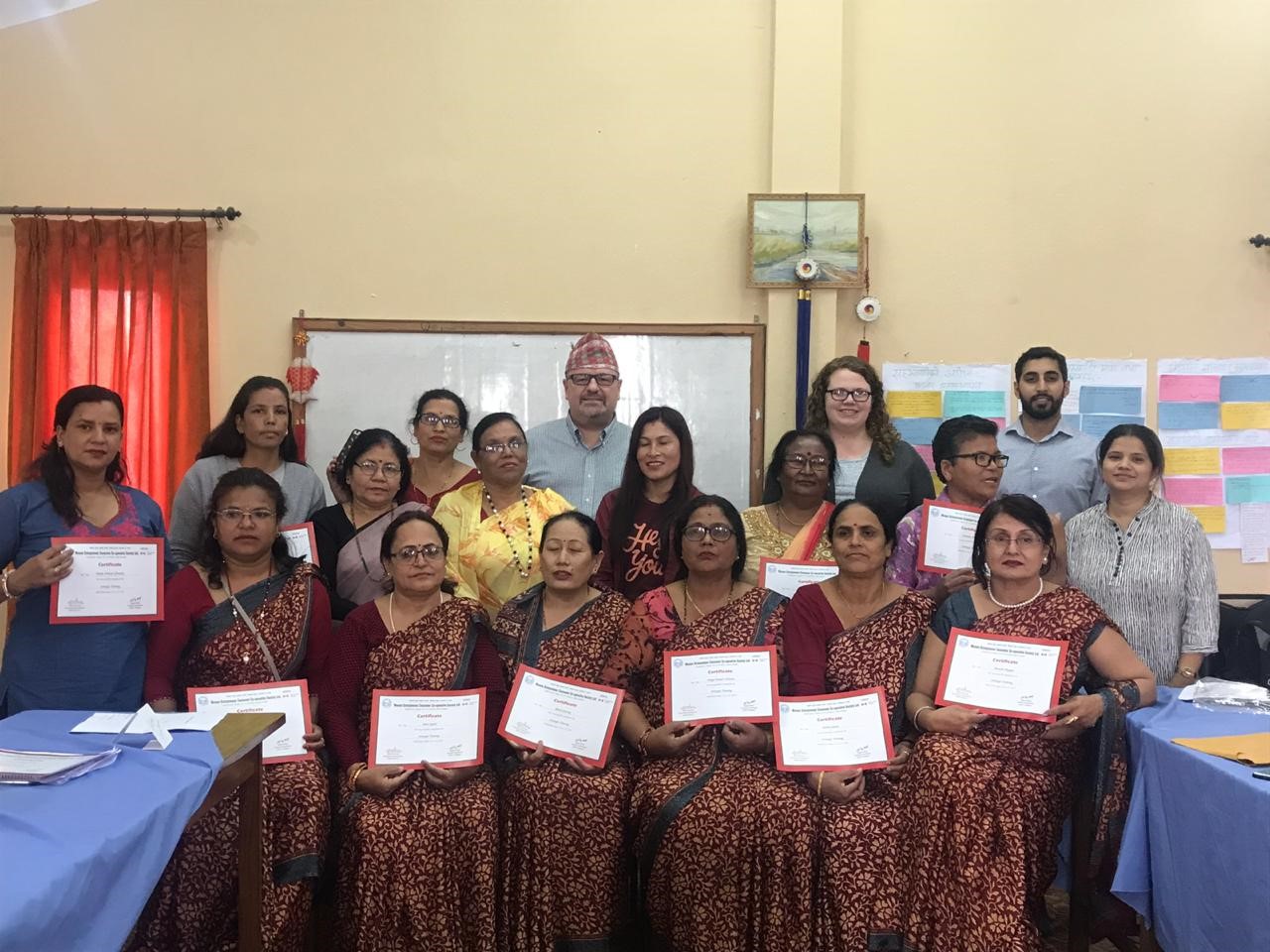 In what ways do you see your experience contributing to your future and helping others in the future?
Narp: Mentorship and training paired with being a good global and corporate citizen is a value set I always had but now it's a core value I want to lead with.  Spreading that idea might hopefully inspire others to do the same.
Rachel: Taking part in an experience like this and participating in a project that leverages capacity building to support an organization reminds us as volunteers of the importance of truly understanding the needs of the groups you are volunteering with and working in collaboration to do impactful and meaningful work.  I will take this experience and the learnings from it into all of my future volunteer projects.
What advice do you have to anyone looking to volunteer more of their time?

Amol: Find causes that are relevant and are meaningful to you.  Make contacts in the community engagement space and reach out to them.
Narp: Make it a priority.  Most of us always think we're short on time but reminding yourself that others can find value and benefit from your time goes a long way.