Umeeda Switlo, marine biologist and co-owner of Naledo was in Belize working when she stumbled upon a diasporic community that migrated from India. This community had been growing turmeric since 1700 when servants first brought the root crop with them. Umeeda was blown away by the sheer size of the crop. If the ones in Granville Island were the size of the tip of her finger, these were the size of her hand. She brought a few home and with the help of Mamajee, her mother, she made a turmeric paste. Proud of her new recipe, she showed it to her daughter Nareena.
Nareena fell in love and quickly told her family that she was going to create a social enterprise based on this product. Both women, who had previously worked on international development, had seen social enterprises operating all wrong. They decided to take a new approach and implement their own philosophy to make a positive impact on the community and environment.
And so, product in hand, they set out to their first food trade show
Their $5,000 folding table was in direct competition with $500,000 booths who were all vying for the same attention from retailers and distributors. All of a sudden they had a lineup. And to their surprise, retailers ordered right on the spot. Within a month or two, the mother-daughter duo went from $0 sales and 0 stores to their product being sold in 750 locations. What was supposed to be a market test ended up being their big break. The rest is history.
We sat down to learn more about their rapid success, what it takes to run a successful family business, and what they've learned along the way.
What does it mean to you to be a certified B Corporation?
Umeeda: For me, it's a badge of 'Yes! We're doing this right!' or at least we're trying to do it right, and we could always be doing it better.
Nareena: For me, it combines sustainable sourcing with how you treat your employees and suppliers. It tracks your business from ground to on-the-shelf products. They do a good evaluation and they also make it affordable to have that certification.
Whereas, with organic certification, if we wanted to do it with small-scale growers, we're looking at over $20,000 a year. And a lot of the onus is put on the grower of the produce. So, this was a way for us to not financially burden our growers—plus B CORP is just awesome in general!
What does it mean to you to be a mother-daughter-run business?
Umeeda: In many families, it can go wrong but because of the positive impact we're making, Nareena and I are in harmony in that area. We both have so much to learn and so much to pass on. That synergy is heart-warming. It is inspiring.
Nareena: For me, I couldn't think of anyone else I'd rather be in business with. I trust my mom. And I can be myself with her. If I'm having a tough day there is such a deep level of trust and respect. Having a business is a rollercoaster. I think, in business, you need a partner you can rely on—in good times and bad times.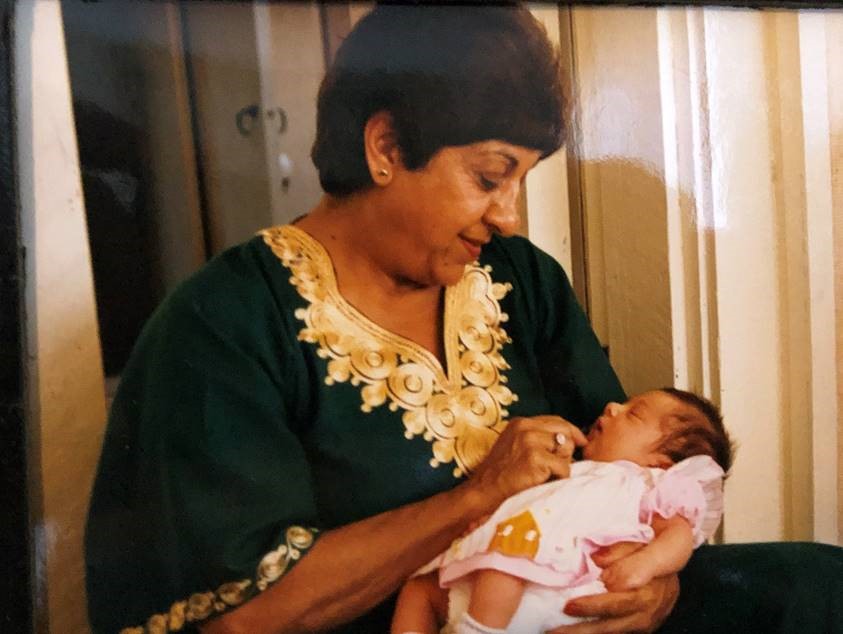 What was the biggest challenge getting your business off the ground?
Umeeda: All the money is ours. When we take loans, it puts pressure on both of us. There is no other family or another person who can take on the burden. The joy can be spread around to other family members but the burden is in one place.
Nareena: There have been a couple of occasions where it has taken a while to get to a consensus on something and neither of us wants to budge. I think the important piece is to set aside your ego and look at how this is going to benefit or challenge our business and find a solution that way. My mom is my mom but in a business setting, we're business partners so she can't "mom" me in a decision. And we have a rule. When we're in a business meeting we call each other by our first names.
How would you describe your relationship as business partners vs. family members?
Umeeda: Sometimes, it's seamless. So we'll be mother-daughter, then we'll be business, then back to mother-daughter. She knows what I'm going through I know what she's going through—it feels natural. There are times we have to put a stop on the business, but we never put a full stop on the personal.  Don't put a full stop on the personal, it's way too important.
Nareena: When I was about five, my father passed away. It's been my mom and me for a long time. I was an angsty teen so my relationship with my mom was challenging for a long time—I was not very nice. Through this business partnership, I have gotten to know my mom differently and she's become my best friend. On a personal level, this has helped our relationship as a mother and daughter become stronger. Professionally, she helps me feel empowered to run this business with her.
If you have one piece of advice for young entrepreneurs what would it be?
Umeeda: For me being a marine biologist, I think it is so important, especially these times during COVD, to look at the impact we're making on the environment and the people—especially indigenous peoples. Deforestation, using plastics, not paying people enough are all contributing to a world that's gone wrong.
Nareena: The era of prioritizing profits over people and the planet is coming to an end. And that's a wonderful thing to see. We just had to keep pushing for that change and we have power as people.
So I say to entrepreneurs, whether you're joining a company or selling your company or wherever you are on your journey, just keep that in your decision-making process.
Any last piece of advice you have?
Umeeda: I want to remind people that entering a new business that has a lot of men in it who have been there a long time—as a woman or a minority or refugee, it's intimidating. You have to walk in there and feel strong. You also have to know what you don't know. Ask questions. Represent your culture, your family and y
our community.
Nareena: I want to give a shout-out to Mamajee, she was like my second mom. I learned a lot of lessons on how to be somebody with integrity. That is a huge lesson that my grandmother passed on to both my mom and me. How do you act with integrity and make sure you have a positive impact on the world?  And I think you can see that all over Naledo as a company.
To learn more about Naledo, visit their website at naledo.com or follow @truly.turmeric on Instagram.