As a small business owner, you know the importance of cash flow. Without it, your company could face challenges, which is why it's always beneficial to look for ways to improve your finances.
Enter, auto refinancing. Why pay more for your vehicles when you don't have to? With interest rates at record lows and favourable terms available, you could quickly lower your monthly payments without much effort. Here are some benefits of auto refinancing for small business owners:
4 Good reasons to refinance
1. Lower interest rates: In recent months, the Bank of Canada has lowered its overnight lending rate. As a result, interest rates on auto loans have also dropped. It may not seem like significant savings, but you could actually save hundreds—or thousands—of dollars over the term of your loan.
2. Extended loan term: When refinancing you, could choose a longer-term that may help you lower your monthly payments. While this will improve your cash flow, you might end up paying more interest in the long run.
3. More money in your pocket: A lower interest rate and/or extended-term will usually result in lower monthly payments. The money you're saving can be diverted to more pressing needs that your business may have.
4. It's quick: It doesn't matter if you have a single car or a fleet of vehicles, it only takes 10 minutes to fill out an application. If you have additional questions, you can always contact one of our specialists.
How car loan refinancing works
Many people don't realize that you can't refinance with the company that currently owns your loan. That means you should shop around and get a quote to see what rates are available to you.
If the terms are acceptable to you and you're approved, your existing loan will be paid off with your new one. You'll now begin paying down the new loan with potentially better rates.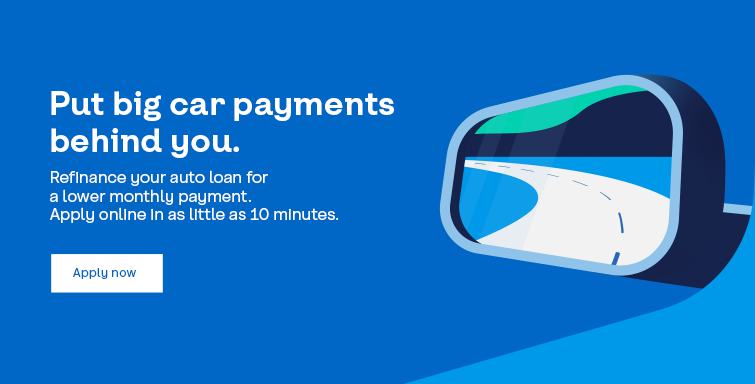 Should you refinance your auto?
Even if your business is running smoothly, and you're not having any cash flow issues, refinancing can be a good move. If your credit score has increased and/or interest rates have dropped, you can likely lower your monthly payments, which means more money in your pocket.
Lower monthly payments would also help businesses that are currently in a challenging position with their finances. Since you may not have to dedicate as much money to your vehicles, you can reallocate your resources to other parts of the business that need attention.
What vehicles can be refinanced
Competitive rates and flexible terms can be found on both new and used vehicles, as well as the following types of vehicles:
Commercial vans and trucks
Delivery vehicles (cargo and cube vans)
Light and medium-duty trucks up to 1 ton
Consumer automobiles
Luxury and classic cars
Hybrid and electric cars
Small fleets
Request a free, no-obligation online quote now and get it in less than 10 minutes and find out how much you can save on your auto financing today.
The stuff we need to say.
Coast Capital Savings Federal Credit Union provides advice and service related to deposit, loan and mortgage products. Coast Capital Wealth Management Ltd provides investment and financial planning services. Coast Capital Financial Management Ltd. provides advice and service related to segregated funds, annuities and life insurance products. Worldsource Financial Management Inc. provides advice and service relating to mutual funds. Mutual fund values change frequently and past performance may not be repeated. Commissions, trailing commissions, management fees and expenses may all be related with mutual fund investments. Important information about mutual funds is contained in the relevant fund facts and simplified prospectus. Please read the fund facts carefully before investing. Only deposits held in Canadian currency, having a term of five years or less and payable in Canada are eligible to be insured under the Canada Deposit Insurance Corporation Act.