Starting a business in pandemic times — PART 1: Adapt to a new normal
Welcome to the first article of a three-part series on what it takes to start a business in overwhelming economic headwinds. Depending on your business plan, times of uncertainty may have better startup odds than you might think. Step one: Learn how to adapt to a new reality when it comes to business and commerce.
From store closures to widespread layoffs, a pandemic is a tumultuous time—some might think an impossible one—to start (or expand) a small business. According to Statistics Canada, 56% of businesses with 5 to 19 employees have reported declines in revenues of 20% or more.
But in its wake, the coronavirus crisis has also created new opportunities in some areas. With consumer behaviour dramatically shifting, some businesses are booming (think: virtual conferencing or in-home workouts), while startups providing everything from food delivery to pet telemedicine are offering new solutions to pandemic problems. If you've got a winning idea—and can make a case for it—now might be a great time to kickstart a venture. But first, make sure your business plan reflects the current climate.
4 paths to profitability
Before confirming you're ready to start a business in trying times, make sure you have good answers to these key questions in a COVID/post-COVID business environment:
Have you done market research? Before setting up shop, do your homework to find out the demand for your product or service during an economic disruption. What problems are people having and what solutions can you offer? As a starting point, search social media channels (like Twitter or Facebook) or platforms (such as Google Trends or Google Keyword Planner) to get an idea of what's trending. Understanding the unique needs of a socially distanced and changing market will help set you up for success.
Do you know the competition? A mobile grocery truck may seem like a million-dollar idea on paper, but your venture may encounter an uphill battle if ten trucks are already in the neighbourhood. Before investing time and money, look into the competition. Are there any gaps to fill? What can you offer that's unique? Also, make sure you're one step ahead of your competitors in your approach to current consumer health and safety concerns.
Do you have a digital-first business plan? You wouldn't take a road trip without a map—the same goes for launching a profitable business. A critical first step is to write a business plan—a document that defines your product or service sets goals and objectives (and a strategy to achieve them), and outlines the financials. If your plan doesn't put digital identity first, you will have a hard time proving your worth in a post-pandemic world. A digital-first strategy is essential in communicating and marketing your business, and, thus, boosting your credibility with potential lenders, investors, and landlords. Connecting the lines between e-commerce and brick and mortar for your customers will be critical.
Who are your helpers? Avoid making rookie mistakes, especially now, and build a network of trustworthy pros who can act as a resource and help problem-solve if you hit a snag. For instance, a Chartered Professional Accountant can advise on a business entity—a structure that impacts your liability and how income tax is reported. They can also share insights on the challenges of businesses that have come before you.
Likewise, the Coast Capital Savings Business Banking team can offer perspective on your financial needs. "We are here to help," says Farrah Solly, Senior Manager, Small Business Initiatives at Coast Capital. "Our dedicated advisors can offer tailored solutions to small businesses based on their needs through Business Lines of Credit, Business Loans, Short-Term Loans, and Business Visas."
Move your business forward with confidence
If times are tough, that doesn't mean getting your dream off the ground is a no-go. If you can demonstrate that your business is for real, lenders will consider your application. "We are trying to look at historical trends in financial statements," says Solly, "taking into account the unprecedented pandemic as 'a one-off' and not truly indicative of business operations."
To discuss your options, book an appointment with one of our business experts. Also, visit The Small Business Centre for more small business tips, funding options, and valuable insight.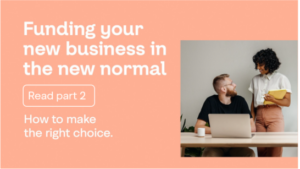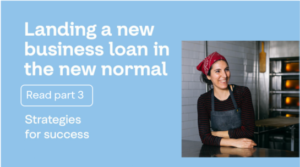 The stuff we have to say.
While these suggestions are believed to be good practices, they are intended as general information only. Business owners should assess their own unique situation and may wish to seek professional advice to determine the right approach for them.