Coast Capital successfully launched end-to-end digital membership opening for personal members in 2017, and in 2019 began offering digital membership opening for Commercial Partnerships and Sole Proprietorship businesses. We're excited to announce that as of November 2019, Corporations (Limited Companies) can also benefit from this innovative membership opening process.
What does it mean for businesses? How is it different from what else is on the market? We sat down with Yana Melnichuk, VP, Digital Experience and Digital Banking; Gena Cole, Director, Small Business Banking; and JT Benjaminsen, Senior Digital Experience Manager, to get all the details on Digital Membership Opening for Business.
How does digital membership opening differ from a traditional in-branch opening?
Gena: Digital Membership Opening at Coast Capital means you never have to step foot in the branch to open a business membership. Business owners can start and finish their membership opening from the comfort of their home or office, or even on the go from their mobile devices.
What does that mean for business owners?
Gena: The most obvious benefit is time saved. Simply put, we know business owners are busy running their business. That's why Digital Membership Opening is so helpful; signers can open a membership quickly and conveniently, so they can go back to being the boss.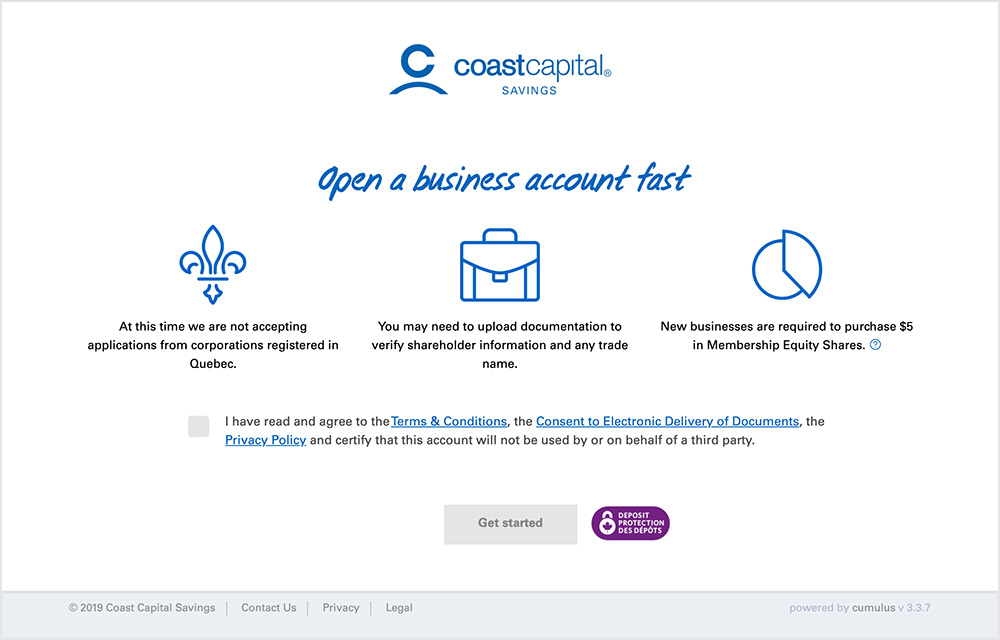 What does Digital Membership Opening mean for Coast Capital?
Yana: It's an integral part of our digital transformation journey and national expansion plans. As Canada's largest national credit union, we're committed to delivering a superior member experience. We understand that the financial services landscape is becoming increasingly more digital, and our members and potential members expect to be able to engage with their financial institution on their own terms. For many, that means online.
With Digital Membership Opening for Business, we're able to help businesses across the country, and continue to fulfil our mission of improving the financial well-being of Canadians.
What are some other features of Coast Capital's Digital Membership Opening for Business?
Gena: Digital Membership Opening for Business has a ton of features that help businesses save time. A few of my favourites:
Convenient application process
Gone are the days when signers need to be at a computer or in a branch together to open a business membership. With Digital Membership Opening for Business, one signer can initiate the process by filling out their business information online. Once the business information is confirmed, emails will be sent to signers inviting them to complete their parts of the process at their convenience. Once all signers have provided their information, we'll automatically process the application.
Easy documentation gathering for Corporations
With Digital Membership Opening for Corporations, we request a digital copy of available corporate registry documents, reducing the amount of uploads required in the application. This speeds up the application process, as we only ask for documentation we're unable to retrieve on behalf of the applicant, saving businesses valuable time.
Innovative identification methods
We use secure third-party tools to verify applicant identification online. In the event that we are unable to do so automatically, we have a partnership with Canada Post that allows applicants to visit a location of their choice to verify their ID.

What sets Digital Membership Opening apart?
JT: Online membership opening isn't a new thing – Coast Capital has had a version of it for years. What's special about Digital Membership Opening for Business is that it is fully automated and integrated with a number of back-end systems including our banking host system, integration layer and a number of third-parties. Digital Membership Opening saves time for not only applicants but also Coast Capital employees, freeing up time to have conversations with our members and really help their business flourish.
Yana: Digital Membership Opening for Business is a market-leading product. While other financial institutions offer similar online services, often the process is only initiated online. This can lead to delays in processing as applications require back and forth interactions with a service representative. On top of membership approval, businesses can also open accounts, fund their membership and set up pre-authorized features through Digital Membership Opening, providing a true end-to-end experience.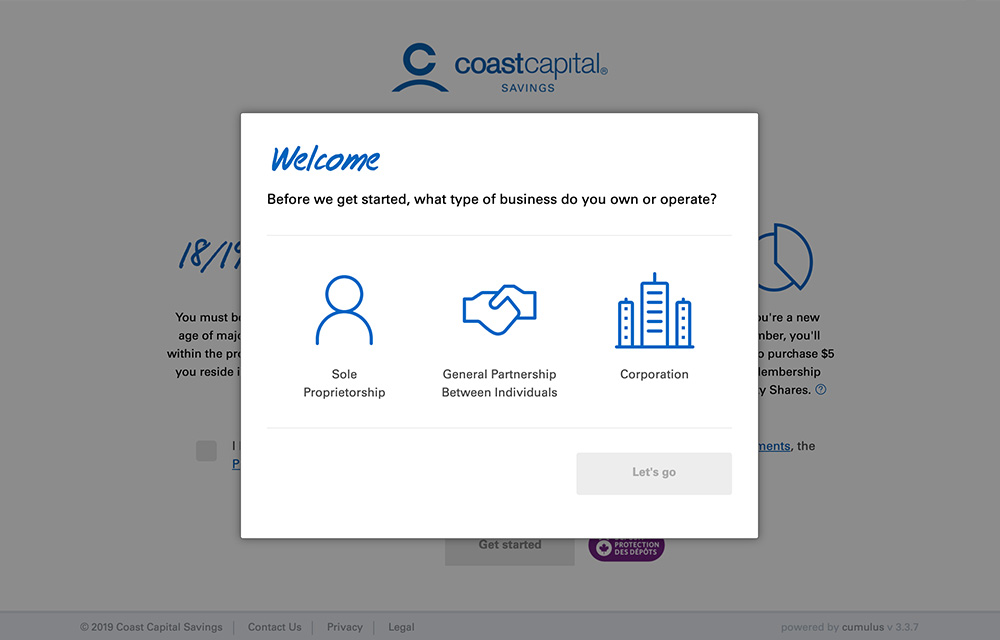 Tell us a bit about the technology involved.
JT: We really took the tech to the next level by leveraging best-in-class technology partners, integrating quickly using their APIs, and using these new technologies throughout the business.
To bring Digital Membership Opening to life, we worked with Canadian fintech thirdstream, a leader in onboarding for the financial services industry. thirdstream's account opening solutions act as the 'front door' to consumers who are looking for a financial institution, allowing us to deliver a seamless experience to new members.
We're also integrated with many other third-party vendors like credit reporting agencies to streamline processes and mitigate fraud. Each new integration has paved the way for further innovation at Coast Capital.
The Digital Membership Opening technology has been refined to fit the needs of our branches. Employees can now use the same process to open many types of memberships in the branch, further saving time for both members and employees.
How does opening a membership online versus in the branch impact the relationship between Coast Capital and a business member?
Gena: It doesn't! Even though the membership opening process has gone digital, we still pay attention to delivering exceptional customer service through our contact centre as well as in-branch. As the growing needs of our members expand, we're adapting to make sure we're delivering the experience they expect (and more!). Members have access to our experts through several different channels to get tailored advice that will help them achieve financial well-being. Because in the end, that's what we're here to do. And that goes for businesses too.
Learn more about business banking at Coast Capital Savings.