Summer is the perfect time for a home renovation project. That paisley wallpaper in the basement is practically begging to be ripped down, and the shag carpet in your living room has been on its last legs for… well, since you got the house.
But home renovations can often cost a pretty penny. How do you make sure you have all your financial ducks in a row? We're here to offer some guidance, plus share few of our favorite DIY home renovations that won't break the bank.
Before you start…
An important first step is to determine the scope of your project. There might be lots you want to do, but resist the urge to squeeze everything into one mega project. Determine your priorities so you can decide what to do now, and what can wait. Turning the backyard into an aquatic oasis may seem like a great idea now, but won't be once you're stuck with a massive bill. Stick with the kiddie pool for now.
Next, set your budget. And stick to it.
Funding is important! Here are some good sources of financing for home renos.
If you've been diligent about putting some savings aside for your reno project, kudos! Even if it's just a little bit, everything counts.
If you have some equity in the property and have a bigger or more costly reno to tackle, consider a home equity line of credit (or HELOC). Getting a line of credit at a good rate can help you if it's going to increase the value of your home. Just be diligent about paying down the balance – and don't over-extend yourself.
It's the little things
If you're short on cash, small aesthetic changes can instantly update the look and feel of your home. Give a few rooms a modern face lift by adding crown molding and baseboard trim. If you can snag it on sale, it's a relatively low cost reno that can make a big impact. Plus, if you're reasonably handy you can do it yourself. You can also try swapping out plastic switch plates with embossed metal or tile ones that match the décor of the room. Wave goodbye to that creepy clown plate in your now-teenage son's room…
Get those rollers and brushes out
A fresh coat of paint can make all the difference in updating or modernizing a home. Using brighter and lighter colours will also make a room feel more open and airy. Bonus? It's a lot more budget-friendly than knocking out a wall to open up a room.
If replacing your floor with tile or wood is out of the question, you can update your space with a few coats of durable floor paint. If you're crafty (and have good measuring skills) you can even create a geometric or checked pattern with some painters tape. For a small price, you can add a lot of personality to a room.
Spruce up your cabinets
Your cave-like kitchen feels that way because the dark cabinets have sucked all the light out of the room. But a brighter makeover doesn't necessarily mean replacing those gloomy boxes with all-new ones. As long as the frames and the doors are structurally sound, you can clean them up and brush on some new paint. All you'll need is some strong cleaner, sandpaper, a paintbrush, and a little elbow grease. What you won't need is a lot of money.
Their mis-take is your success.
Mis-tints are paints that are unused or returned by customers because they're not the right colour match or finish. But luckily for you, they're perfectly good paints and come at a fraction of the cost as a custom paint shade.
Turn the unexpected into something new
Tight on space? Turn a closet into a home office. All you need to do is unhinge the door and trade hanging rods for shelves. Add a deep one for the desktop and two shallow ones above for storage. If you find the materials on sale, this relatively quick DIY could add practicality without making a big dent in your wallet.
Reclaimed or recycled wood can be turned into unique floating shelves for just about any room that needs extra storage. Check buy/sell boards online for anyone getting rid of old wood (think old fence pickets, wood planks from a lumber yard, or a carpenter's scraps), get creative with staining and finishing, and you'll be on your way to a custom piece in no time.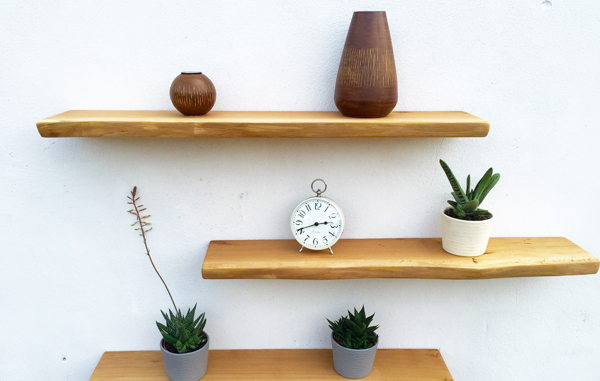 Light it up
Get creative with the way you light up your home. Hit up antique or thrift stores and find old, beautiful fixtures for a fraction of the cost. Mix-n-match pieces for an easygoing vibe. You can even install a dimmer switch in your dining room or bedroom to set the mood – and save energy.
Repurpose the old
Refurbishing old furniture with a fresh coat of paint and a bit of sandpaper will give your space a unique vibe. It beats buying a cookie cutter coffee table that everyone else already has (bonus: no assembly required).
If you have an old coffee table that needs some TLC but don't have the time or energy to fully refinish it, consider contact paper. It's kind of like wallpaper but with adhesive on one side and a colour or pattern on the other. You can buy it at hardware stores or online, and with the variety of colours and finishes available, you're sure to find something that suits your décor.
Make a good first impression
The outside of your house is often not the first place you think of when planning out renos. But having a fresh coat of bright paint on your door, paired with a new door knocker, mailbox and doormat (and maybe a small topiary or two) can add character and newness without compromising your budget.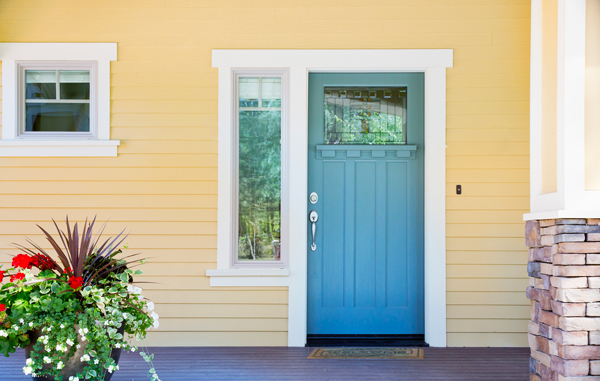 No tools? No problem.
Tools can be expensive. To save yourself hundreds of dollars on power saws and drills, look for tool co-ops or tool libraries in your neighborhood. Or, if you have a nice neighbor, ask if you can borrow their tools in exchange for a batch of cookies (or two).
Things to keep in mind.
Unless you're only making small, cosmetic changes, your insurance policy will need some adjustments to provide coverage during and after your renos. To be absolutely safe, talk to your insurer.
Being friendly to the environment can also be friendly on your wallet. If your renovation will improve your home's energy efficiency, you may want to look into various rebates available from BC Hydro.