At Coast Capital, we're pretty passionate about volunteering. So passionate, in fact, that we give our employees paid time off to volunteer. As a purpose-driven organization, we understand that different people have different causes they support that help them realize their own personal purpose. For that reason, we empower our staff to choose which causes they want to support with their volunteer time through our Help Heroes volunteer program.
Cameron Husseynec is a Member Banking Specialist at our Aulds Road branch and a member of our Youth Get It Community Council. He's all about about volunteering, community, and helping others. In honour of National Volunteer Week, we sat down with Cameron to hear his thoughts on volunteering and the impact it makes on communities.
What is your purpose?
My purpose is to inspire others to be a part of something bigger than themselves and make the world a better place tomorrow than it was today.
How does the Coast Capital Help Heroes program help you achieve it?
Coast Capital's Help Heroes program fits my personal purpose to a "t" and helps me realize my purpose. In addition to the time Coast Capital gives me to volunteer, there are other aspects of the program that result in a financial contribution going directly towards programs and initiatives that make the world a better place – it's the perfect alignment for me. I also really like that I get to choose where I spend my time volunteering with Coast Capital's support, as it makes sure my time is spent doing something that is aligned with my personal purpose.
How often do you volunteer and where do you do it?
It's hard to put an exact number to it- I just try to be first person to raise their hand when an opportunity arises. I would say about 4 or 5 hours per week on average. I really enjoy the life lessons that you learn through sport, and since I'm a pretty big sports guy, it's a natural fit for me to volunteer in sports.
What has been your most memorable volunteer experience?
My most memorable volunteer experience was when Coast Capital's commercial banking team gave the Nanaimo Boys and Girls club an "extreme makeover". Employees from all over Coast Capital came together in Nanaimo and sort of left the banking side of things at the door. We worked together to create something truly amazing for the community of Nanaimo. When we were finished, seeing the faces of the youth that use the Boys and Girls Club services when they walked through the door of their new space was such an inspiring moment.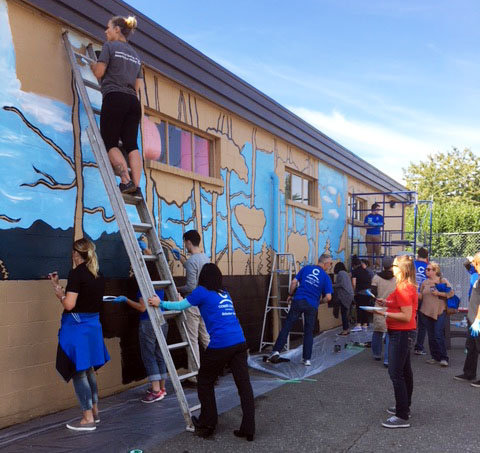 What impact do you feel volunteering has on communities?
The Mother Theresa quote "I alone cannot change the world, but I can cast a stone across the waters to create many ripples" has always resonated with me. I believe that when you help someone in need that might not have gotten help otherwise, you cast that stone and give people a spark of hope. I can't imagine a better gift than giving someone hope!
What impact has volunteering made on you as an individual?
Volunteering has had a large impact on me as a person. Above all else, it's made me hopeful that we can truly make this world a better place tomorrow than it is today. Seeing the change in expression on people's faces when they're being helped, and seeing the impact that makes on the other volunteer is always an awesome moment. There are people out there who need help, and it's painful knowing that they are in a potentially bad situation. But there are people out there willing to give them that helping hand, and I love that!
What advice do you have for anyone thinking about volunteering?
Don't be afraid to leap without looking. Whether you're volunteering within your comfort zone, or far outside of it – just get out and do it. I think you'll find that making an impact on someone's life can be one of the most valuable ways to spend your time. So, just do it!
Thanks, Cameron!
Our volunteer program is just one of the cool perks about working at Coast Capital. Learn more about working at Coast Capital, and check out what else we do to help our community.