Stand for something and help youth in your community.
We've made a promise to help build a richer future for youth in your community, and this summer we're empowering youth to help us do just that. By answering the simple question of "What do you stand for?", you can help us allocate community investment funds to a youth-serving charity organization that matters to you.
The details.
We've partnered with local artist Ola Volo – you may have seen her art before: she's done work for Starbucks, Kit + Ace, and The Juice Truck, to name a few – to create awesome art backdrops for your best selfies. The backdrops illustrate three different causes that we know are important to youth today: financial empowerment, education, and mental health. 
We're bringing the backdrops with us to our community events during the summer, and asking people to take a photo in front of the cause that matters to them the most.
What do you stand for?
It's easy to participate.
Visit us at one of our community events (see below).
Tell us what you stand for by taking a photo in front of the cause that matters to you the most.
Share it on Instagram, Twitter, or Facebook with the related hashtag.

#CoastCapital4FinancialEmpowerment
#CoastCapital4Education
#CoastCapital4MentalHealth

We'll donate $1 to a youth-serving charity organization related to your post.*
You get an awesome photo and help youth in your community at the same time. It's a win-win.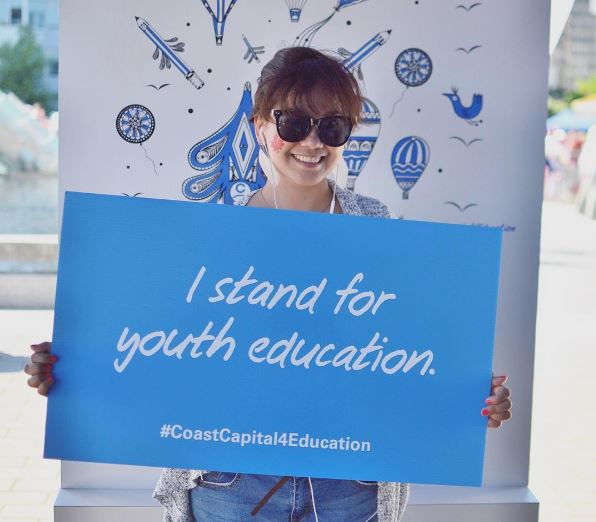 Where you can get involved.
If you missed us at Canada Day and Khatsahlano, you can still find us at these events:
Metro Vancouver
Vancouver Island
Who benefits?
Youth, of course! Coast Capital will donate funds directly from these events to three different charity organizations that help youth in their areas of expertise.
Ready to Rent BC
Ready to Rent BC provides homeless prevention programs and housing education courses for tenants, landlords, and community partners. Through this, they help youth achieve housing stability.
Youth Futures Education Fund
In November 2016, Coast Capital launched the Youth Futures Education Fund in collaboration with the BC government, BC's Representative for Children and Youth, the private sector and the philanthropic community. The Fund supports BC youth who used to be in government care and are pursuing post-secondary education on a tuition waiver – by providing them with non-tuition living expenses.
BoosterBuddy Mental Health
Coast Capital partnered with Victoria Hospitals Foundation and Island Health to develop BoosterBuddy, a mobile app designed by youth to boost mental health. It checks in with youth through a series of daily quests with the aim of establishing and maintaining healthy mental habits.
*Coast Capital will make a charitable donation of $1 per eligible post, up to an aggregate maximum donation of $15,000. Please only post photographs you own and/or have permission to post. By making or participating in a post using the indicated hashtags, you are deemed to have consented to the collection, use and disclosure of your personal information contained in the post by Coast Capital. If you wish to withdraw your consent, please contact contests@coastcapitalsavings.com. Full terms and conditions available here.