Coast Capital has been a supporter of BC's Pink Shirt Day in partnership with CKNW Kids' Fund since 2012, making this our seventh year participating in this campaign. Pink Shirt Day is an annual bullying prevention campaign with a simple yet powerful message: be kind. Each year, our staff and members get involved by wearing pink and participating in our #PinkItForward social media campaign to raise funds and awareness for Pink Shirt Day.
#PinkItForward
It's easy to participate in our social media campaign. Just say something nice about someone on social media and add #PinkItForward. For each hashtag, we'll donate $1 to CKNW Kids' Fund Pink Shirt Day.* Every hashtag counts!
Why wear pink shirts?
In 2007, two teenage boys (Travis Price and Derek Shepherd) from Nova Scotia,  along with their friends, organized their peers and encouraged them to wear pink to stand up for a new student who was being bullied for wearing a pink shirt on the first day of school.  The next day, with encouragement from Travis and Derek, schoolmates wore pink shirts to show their support and to help put a stop to this bullying behavior. This small act of kindness and solidarity quickly drew attention and became a celebrated awareness campaign, which has now expanded to schools across the country.
Coast Capital's role in Pink Shirt Day
At Coast Capital, we're committed to empowering youth in our communities to achieve what's important in their life. One way we do that is by supporting local programs that build a sense of belonging. In 2018 alone, with the support of our members and employees, we invested $490,000 in bullying prevention programs. As the presenting sponsor of CKNW's Pink Shirt Day, we're supporting bullying prevention initiatives, and helping youth develop positive connections with their family, school and community.
Each of our 52 branches get involved and every year we hear from employees how much they love getting involved with Pink Shirt Day. Every employee is given a pink shirt to wear to work and our branches show their Pink Shirt Day pride by displaying posters and putting up pink decor to further raise awareness and encourage our members to get involved too. We don't stop there – we pink it out on social media and encourage employees to spread kindness through #PinkItForward.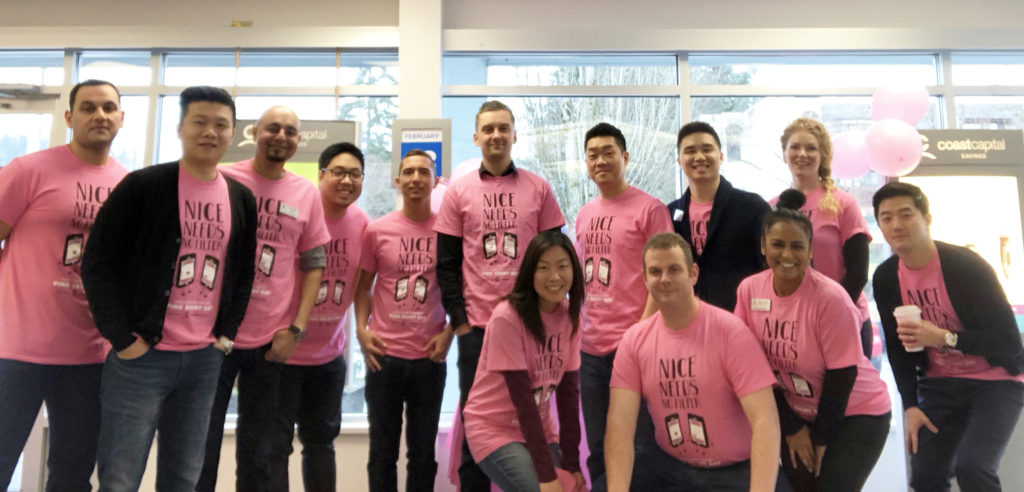 Why it matters to me
I work for the Community Leadership team at Coast Capital Savings and I've been so fortunate to have the opportunity to work with various organizations who offer bullying prevention programs. I've heard stories of impact and met youth whose lives have been changed by these important programs. It's an incredible feeling to know that the work I'm doing supports bullying prevention programming and campaigns like CKNW's Pink Shirt Day.
When I first started at Coast Capital, I was truly inspired by how involved my co-workers were with the campaign. Walking around my office that day (and every year after) I was surrounding by a sea of pink and positive energy – it's incredible. It doesn't take a lot to make someone's day and spread kindness. I keep that in mind not just on Pink Shirt Day but every day.
Where the money goes
All proceeds from Pink Shirt Day go to the CKNW Kids' Fund which provides grants to help local non-profit organizations working year round on bullying prevention initiatives. This includes Canadian Red Cross of Canada, Kids Help Phone, KidSafe Project, Crisis Intervention and Suicide Prevention Centre of BC, Boys and Girls Clubs of Western Canada, and the Stigma-Free Society. Since 2008, Pink Shirt Day has raised over $2.1 million – and all of that money has gone back to these BC non-profits.
How you can help
It's simple, I promise. Remember that social media campaign I mentioned earlier? Get on social media and use #PinkItForward as much as you can this February.
There are other ways you can help – you can buy a Pink Shirt Day t-shirt or other pink swag online or at any London Drugs. You can also make a donation directly to CKNW Kids' Fund. Everything counts.
Kassandra Mihaly, Coordinator, Community Programs

Kassandra holds a Bachelor's Degree in Communication from Simon Fraser University. She lives in Maple Ridge with her sweet little rescue dog, enjoys exploring the great outdoors and loves getting lost in a good book.

Follow Kassandra on LinkedIn.
*Up to $30,000. See details here.