May 2nd marks the Canadian Mental Health Association's 71st Annual Mental Health Week. Coast Capital is joining communities, schools and workplaces across the country to #GetReal about mental health.
The past few years have shone a spotlight on the importance of mental health, especially for young Canadians. According to Statistics Canada, prior to the pandemic, youth ages 15 to 24 were more likely to experience mental health challenges than any other age group. Youth have also reported the greatest decline in mental health as a result of COVID-19.
That's why we recognize the importance of protecting, promoting and celebrating mental health every week, not just during Mental Health Week. Last year, Coast Capital reinvested over $4 million in a wide range of organizations and causes through donations, partnerships and charitable support of non-profits. One of those organizations is the Take a Hike Foundation.
Take a Hike's dedicated mental health program.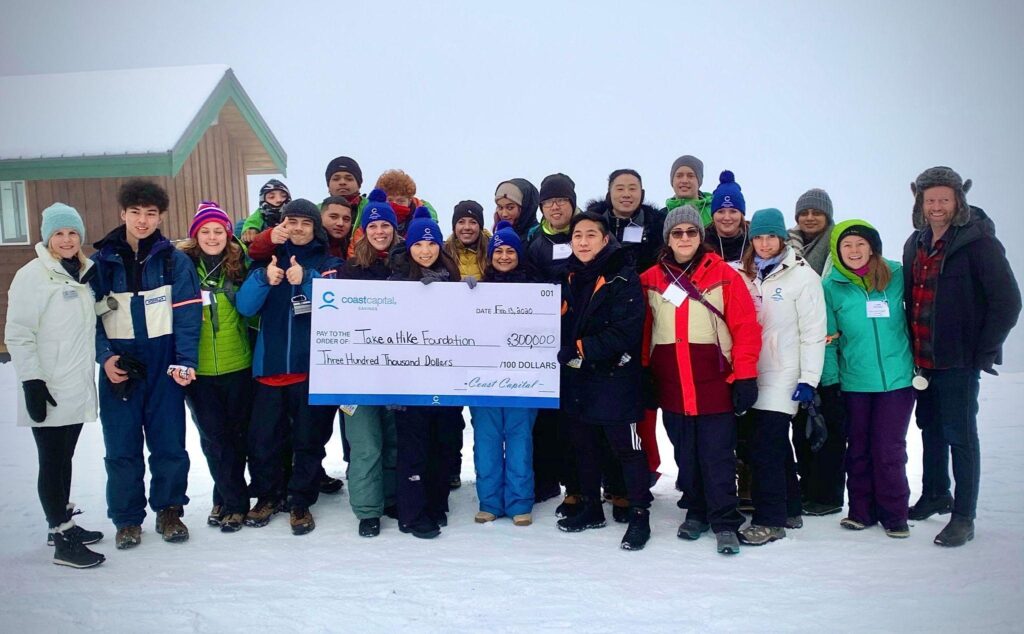 Take a Hike empowers youth in British Columbia who experience vulnerability to change the trajectory of their lives with a full-time mental health and emotional well-being program. Their distinctive approach integrates clinical counselling, outdoor and adventure-based learning, academics, and community. This results in a 97 per cent graduation rate among its 690+ youth and alumni – 14 per cent higher than the graduation rate for mainstream public education in 2019.
Their program is so effective, that youth who participated in Take a Hike's program during the pandemic reported improved mental health. Take a Hike accomplished this by providing safe and caring relationships, individualized support that meets the unique needs of youth, continuous and intensive shared learning time, and a strong belief in the ability of youth to succeed.
"I don't know where I would be without Take a Hike. I came to the program with little self-esteem, social anxiety and low motivation for school and life really. Through the program I started to believe in myself. I made friends, found that teachers were actually nice, and they cared about you, and learned that counselling is helpful. That you're not weak for talking to someone about your problems. This year I was able to graduate early and enter a trades program. I never believed I would go to college and here I was before the school year was even over. Take a Hike helped me achieve more than I ever thought I could."

-Take a Hike graduate
Take a Hike works every day to transform the lives of youth and their families. Over the past 20 years, they have continued to grow, building their services in additional communities across the province, and offering long-term programming. With the support of donors and partners like Coast Capital, Take a Hike plans to expand beyond B.C. by 2025.
Learn more about Take a Hike
In honour of Mental Health Week, Take a Hike is hosting lunch and learn webinars throughout May. During these short and engaging sessions, Pete Prediger, Take a Hike Clinical Director, will be joined by two clinical experts to share some of the practices used in Take a Hike's programs to support youth that you can apply at your workplace and at home.
To learn more about the Take a Hike Foundation and their impact on youth mental health, visit their website. You can also read more about how Coast Capital reinvests into our communities in our Public Accountability Statement.