It's been a big year for both Coast Capital Savings Credit Union and for the 2017-2018 Youth Get It Intern Team. As the Island Youth Get It Intern Leader, I am so proud of how far our team has come and I'm happy to share a bit about my experience. I'll always look back on my time as an intern and be proud of everything we've learned and accomplished as a team.
Why I became a Youth Get It Intern.
Two years ago, I joined the Youth Get It Internship program with the goal of gaining insight on the workforce and developing my financial literacy skills. I had the opportunity to work at three unique Coast Capital branches: Tillicum Mall, Westshore, and now Shelbourne. During my time, I've grown to value the relationships I've built with our members. And I'm so proud of the skills I've gained to help them on their path to financial well-being.
My goal this past year as a returning intern was to become a leader and support the first year interns.
What it's been like.
It has been such a unique experience working with this team. I loved participating in the branch, representing Coast Capital at community events and taking part in volunteering opportunities. A highlight for me has been seeing the evolution of our team and transitioning to the role of Leader. We've gotten to know each other really well and have watched each other mature and develop in so many ways.
We worked together tirelessly to make the most of our intern experience. This has been a team of superstars, ready to give back and take on just about anything. We had the opportunity to volunteer community events, have team building days, participate in training sessions to prepare for the branch life, teach financial literacy to other high-schoolers through the JBAC Dollars with Sense Program, and yes, even reorganize the storage unit (haha). But it was still fun, I promise.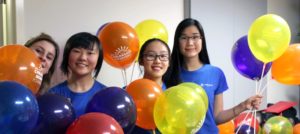 A big thank you.
I would like to thank each person who took the time to make this opportunity possible for us.
To my team: Thanks for making this a spectacular year.
To the branches: Thanks for welcoming me and believing in me before you had even met me.
To the Coast Capital Community Leadership team: Thanks for your guidance and for making this experience a reality, and for seeing us as more than just "high-schoolers".
Kick-start your career.
We have made such an impact on our community, on our members and on each other. The Coast Capital Savings Youth Get It Internship Program has enriched the lives of more than 370 youth in the last 25 years. I look forward to seeing it build a richer future for many more.
Does this sound like a great experience for you or someone you know? Recruitment for the 2019/2020 team will kick off in spring 2019. Learn more.
Shae-Linn, Youth Get It Intern

Shae-Linn is a student, a programming enthusiast, and Youth Get It Intern Leader. If she isn't coding at her computer, you can find her belaying youth rock-climbers and teaching kids to swim for adaptive sports training.