My name is Kate and I just finished grade 12 as a homeschool student. I'm also a recent graduate of the Coast Capital Savings Youth Get It Intern program. In addition to working as a community ambassador this past year, I've had the amazing privilege of helping our members at our Langley Branch as a Member Service Representative.
Why I joined  the Youth Get It Interns.
I remember being nine years old and having four piggy banks on my bedroom dresser.
Saving for forever
Saving for some time
Sharing
Spending
As I got older, these piggy banks turned into Savings Accounts. Any money that came into my possession was divided up accordingly. My parents were adamant that all money – birthday, Christmas, or jobs – would be allocated into these accounts. I never knew it could be done differently. I was just excited that I got to spend 50% of my money however I wanted to!
Throughout my teen years, (which I'm still in), I have been stunned that the majority of my friends do not have any sort of operating system when it comes to their money. They spend what they have – that's their financial plan. When I saw the job posting for Coast Capital's Youth Get It Interns, I couldn't believe that there was a company out there that cared about youth and their relationship with money! I thought that the internship would be a great opportunity to be hands-on with other youth and to help them understand money better. It would also be a fantastic way to get an inside look at the financial world that has always interested me. But this past year has surpassed any expectations I had.
Giving back to the community.
One of the ways Coast Capital shows that they care about youth and the community is through community event participation. Our role as Youth Get it Interns is to bring fun, joy, and engagement to the community. Some of my personal favourites included Surrey Canada Day, Fusion Festival, and the Surrey Christmas Tree Lighting. Our booth was always full of smiles and laughter. It was amazing when members of the community saw that Coast Capital really does care about them, and that we want to be a part of helping them reach their financial goals.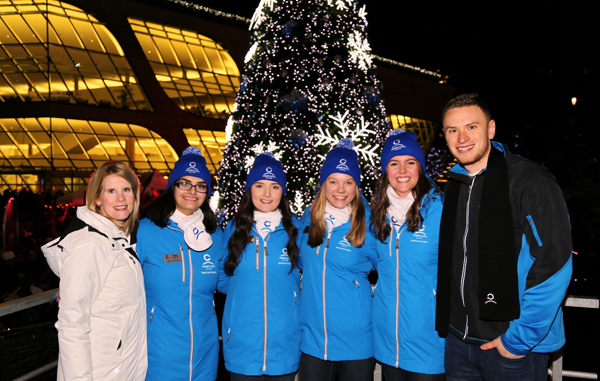 Participating in the JABC Dollars with Sense program is just another way that Coast Capital is involved in the lives of youth. This was also one of the most memorable experiences for me. A lot of people are fearful of money – they feel they don't understand it. Not only was it fun, but it was so encouraging to see kids engaged and excited about money. This is the first step in a young person's road to manage, save, grow, and protect their money. I am so proud to be part of an organization that cares about youth at the beginning of their financial journey.
What it's like working in a branch.
The Langley Branch has been one of the best parts of my year as a Youth Get It Intern. The team treated me like a peer and teammate from day one.  They have shown me how to give great customer service and challenged me to go out of my comfort zone and talk to members about the value of a Where You're At Money Chat and having a financial plan. The branch really does live up to Coast Capital's goal of being a workplace that challenges the way people feel about work. For a teenager to be excited about getting up at 7am on a Saturday morning because they get to go to work – that says a lot about what it's like to work at Coast Capital.
The future is bright.
As my first term as a Youth Get It Intern comes to an end, I'm so grateful for this experience and some of the special people who have touched my life along the way. As a homeschool student, my resume and experience was not traditional. Coast Capital was willing to think outside-the-box and take a chance on me. Thanks to everyone at Coast Capital for believing in me and giving me this opportunity, and to my fellow Youth Get It Interns – it's been awesome to take this journey with you. And I can't finish this off without thanking my parents– they gave me the support I needed to build a dream to chase after.
I look forward to taking all the lessons I have learned and experiences I have had throughout the past year and applying them to the next chapter of my life. I will be continuing on with Coast Capital as second year Intern while studying Business at Trinity Western University in the fall. Thank you, Coast Capital, for an unbelievable year that I will never forget!
Does this sound like a great experience for you or someone you know? Recruitment for the 2018/2019 team will kick off in spring 2018.