We've come a long way since our roots in a barn (fun fact). Your business has come a long way too. Running a business is no walk in the park – but with the right equipment, you can get the job done. But sometimes, the right equipment costs a pretty penny, and that's where equipment financing can help you-big time.
What is equipment financing?
The equipment you need to run an efficient business is expensive. And it's almost impossible to pay out of pocket for things like heavy duty trucks, earth-moving equipment like excavators and dozers, or piston engine and turboprop aircraft.
That's why most business owners finance or lease the equipment that they need.
Which one sounds better to you? You can either pay $175,000 up-front for a new heavy duty truck, or $3,000 per month over 5 years. It's easy to see that the second scenario gives you more financial freedom for new opportunities to grow. It also leaves less financial vulnerability if something unexpected were to happen. We've made a handy chart to highlight the differences: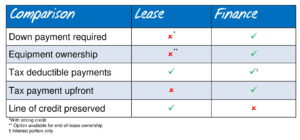 Financing
When you finance equipment, you make payments until you own it. Your down payment is usually about 20 per cent. The equipment is recognized as an asset and the borrowed amount as a liability and  you can only deduct the interest expense from your income. But unlike a lease, your taxes are paid up front in full. Equipment financing also has interest payments on the capital you used to purchase that asset.
Leases
When you lease, you make payments until your lease ends. At that point you can choose to purchase the equipment or renew your lease for something else.There are two different options for a lease. An operating lease will allow your full lease payments to be deducted from your income. A capital lease however, similar to financing, recognizes your equipment as an asset on your balance sheet with only the interest being expensed, though the total lease payments are tax deductible. A lease can also be beneficial because of the ability to spread the tax payment over the term of the lease. Leasing also requires less of a down payment, about 10 per cent or sometimes nothing, depending on your credit rating.
Whether you decide leasing or financing is best for your business, it basically comes down to different accounting and tax implications, which is why it's so important to talk to the experts.
What kinds of businesses benefit from equipment financing?
It depends on the industry, but there are many businesses that can benefit from equipment financing. Equipment financing can help you with a head start if you're an entrepreneur who wants to launch your own business, or if you own a business that needs to grow. And it's really beneficial if you're in a business that uses equipment that quickly becomes obsolete, or if you need to take strategic tax advantages that come with financing.
How it helps your business.
Equipment financing can save you money
When you lease, it's easier to replace ageing equipment and avoid the cost of ownership if it breaks down. Equipment financing can also be arranged to match a piece of equipment's operating life so that before the equipment reaches the point of no return, it can be replaced with a new lease.
It's kind of like an investment
Equipment financing should also be seen as an investment strategy. Of course, you pay interest on the machine you've financed, but the equipment that you finance will ideally generate more revenue than the monthly payments for the use of that equipment.
For example, if a new piece of equipment generates $5,000 of revenue per month and your equipment cost is $3,000 a month, then financing the equipment will allow you to grow your revenues by $2,000 per month. This way, a business is empowered to grow and become more profitable.
Things to consider.
Work with someone you can trust
Your lender is essentially your financial partner. And it's critical that they understand you and your business. It's not simply about borrowing money to buy the equipment that your business needs right now, it's also about having the right financial partner that can advise you on your present and future equipment purchases.
Only buy what you need
Often, a business will make equipment purchases that are beyond what a business really needs. This means you unnecessarily pay more. Think about what you really need and what you're going to use it for, then optimize your purchase to meet your needs. You might find that the job can be done just as well with less expensive, or even used, equipment.
Think about the big picture
When you request a quote, make sure it includes the interest rate, monthly payment, residual amount and any or all administrative fees to make sure there are no hidden costs. Even if one lender offers you a lower interest rate, it could still cost you more in the end if there are things like substantial administrative costs.
Since there is so much to consider, it's best to talk to the experts on our Equipment Financing team. You can call us at 1.877.293.0202 (option 4) or email us anytime. We're always ready for a chat.